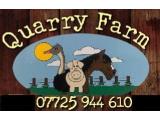 Looking for:
Animals & Farms
Address:
Quarry Farm,
Rake Road,
Liss,
Hampshire, GU33 7HB
Postcode:
GU33 7HB
Age Group:
All Ages
Kids Activity:
Indoors and Outdoors
Telephone:
07725944610
Website:
Click Here
---
Quarry Farm offers a diverse range of farm products and facilities. We range from selling a box of eggs to producing our own ostrich and pork sausages! We also offer a wide range of equestrian facilities from simple grass livery to horse dentistry and riding lessons. We also have started a mobile farm that brings the animals to you and your events with a wide range of animals available for all sorts of events and special days!
Currently we breed and produce our own animals and are able to sell to you a small range of products and animals including:
Pigs and piglets
Chickens, Chicks and free range chicken eggs
Ducks, ducklings and free range duck eggs
Geese, goslings and free range geese eggs
Turkeys, turkey chicks and free range turkey eggs
Ostrich feathers and ostrich eggs
Lambs and sheep fleece
The Mobile Farm
Recently we have started a mobile farm business where we can bring the animals to you! We are happy to take them pretty much anywhere and don't need too much space! We would need access to fresh water but that's about it! We provide the rest and even clear up after ourselves! We can bring small animals for people to be introduced too and even some bigger ones too! We can give talks and help people get a better understanding of the different animals. If your having a children's party or an open/fun day we can be there. Recently we were at a fund raising event where we helped raise over £500 towards a minibus for the elderly, with us we took piglets, sheep, geese, turkeys (including babies), Wilma (she provided the children with pony rides) and big Jack the Clydesdale! It was a fantastic day and a great success! For further information and to request and booking, discuss fees etc please contact us for availability.