Strathclyde
| | | |
| --- | --- | --- |
| | Welcome to the Bubbles Factory indoor soft play and cafe where you'll be fascinated and flabbergasted by the fun on offer for families & friends! At The Bubbles Factory we are committed to... | |
| | | |
| --- | --- | --- |
| | The conservation village of New Lanark is the gateway to the Falls of Clyde Wildlife Reserve, which is owned and managed by the Scottish Wildlife Trust. From New Lanark you can enjoy beautiful... | |
| | | |
| --- | --- | --- |
| | Come and enjoy the largest collection of Birds of Prey in Scotland. Our centre has been designed to be a memorable occasion for all, be it a casual visit or a V.I.P. Experience. The varied... | |
| | | |
| --- | --- | --- |
| | Our building is a mini cultural complex with studio theatre (100 seats), foyer, standing exhibition of masks and puppets from around the world, cafe, shop, box office, seminar room with extensive... | |
| | | |
| --- | --- | --- |
| | Lazer Planet Ultimate Laser Tag ScotKart Indoor Kart Racing 33 John Knox St Clydebank Glasgow Strathclyde G81 1NA Telephone: 0141 641 0222 Option 2 | |
| | | |
| --- | --- | --- |
| | Cafe Ceramico is a family run, family oriented, creative environment for ceramic painting. Alongside the pottery painting we have a free soft play area and a cafe serving tea, coffee, snacks... | |
| | | |
| --- | --- | --- |
| | We provide Childrens Craft Parties, Corporate Workshops and Face Painters in Glasgow and Central Scotland. | |
| | | |
| --- | --- | --- |
| | Dip 'n Doodle 6 Gallowgate Lane Largs Strathclyde KA30 8BE Telephone: 01475689728 | |
| | | |
| --- | --- | --- |
| | You pay a £4.00 Studio Fee (£3.50 at boat) which covers the cost of paint, brushes, bottom on seat then choose the piece you wish to paint, make or decorate and add this to your Studio... | |
| | | |
| --- | --- | --- |
| | The country park lies to the south of the town of Paisley on the Gleniffer and Brownside Braes. It is approximately 480 acres in area, three miles long and one mile wide. It is an upland park, mainly... | |
| | | |
| --- | --- | --- |
| | In the early years of the 20th century, Paisley Burgh Council was looking for a site for a park which would be suitable for use by the public for recreational purposes. Extensive grounds at Barshaw,... | |
| | | |
| --- | --- | --- |
| | Spring, summer, autumn and winter, the beauty of Eglinton Country Park is on your doorstep. Eglinton Country Park gives you the space and freedom to enjoy a wide range of pursuits. There are tranquil... | |
| | | |
| --- | --- | --- |
| | Set in the hills to the south-east of Cumbernauld, Palacerigg Country Park is well signposted from the town centre road network. It is less than half an hour's drive from Glasgow, Motherwell,... | |
| | | |
| --- | --- | --- |
| | James Hamilton Heritage Park is a 4 Star Visit Scotland accredited activity centre. The park features a 16 acre loch which provides beautiful and tranquil suroundings for our exciting range of water... | |
| | | |
| --- | --- | --- |
| | Situated within North Lanarkshire, to the west of Coatbridge and east of Glasgow, the park was formerly a private estate. The land was given over to the Burgh for use as a public park in 1919, and... | |
| | | |
| --- | --- | --- |
| | Kilmarnock's hidden gem, Dean Castle Country Park is a fantastic free day out for all the family. The country park, covering over 200 acres, is nestled in the heart of Kilmarnock and offers... | |
| | | |
| --- | --- | --- |
| | Chatelherault Country Park, a five star visitor attraction under the Visit Scotland grading scheme, has been described as a Jewel in the Landscape. Exhibitions gallery, displays, gift shop, cafe,... | |
| | | |
| --- | --- | --- |
| | Calderglen's scenic landscape and range of facilities and services promise to make the park a great family day out with lots of fun things to do. The main visitor attractions and facilities are... | |
| | | |
| --- | --- | --- |
| | The Park is Glasgow's largest park and the only Country Park within Glasgow. Its extensive woodlands and gardens provide a quiet sanctuary for both visitors and wildlife. | |
| | | |
| --- | --- | --- |
| | Mugdock Country Park is a country park and historical site located partly in East Dunbartonshire and partly in Stirling, in the former county of Stirlingshire, Scotland. It is to the north of... | |
| | | |
| --- | --- | --- |
| | Exhilarating informative wildlife and thrill boat trips on our offshore RIBS (Rigid Hull Inflatable Boats). Experience Argyll, the Clyde and the beautiful isles of Cumbrea, Bute and Arran.... | |
| | | |
| --- | --- | --- |
| | It's hard to find things to entertain the whole family, especially if you have toddlers, stroppy teens and Grandma and Granddad to consider as well. The problem is, teens like gaming and... | |
| | | |
| --- | --- | --- |
| | If you're looking for action and excitement then you've come to the right place. Get yourself ready to play, eat and shop at Scotland's Ultimate Entertainment Destination. Experience the... | |
| | | |
| --- | --- | --- |
| | As well as providing facilities for swimming it houses an ice rink, bowling hall, two sports halls, squash courts, a sauna/solarium suite, a superb fitness room and two bars. It is therefore a... | |
| | | |
| --- | --- | --- |
| | Glasgow Ski & Snowboard Centre is the place to ski and board in the West of Scotland. In Bellahouston Park, only minutes away from central Glasgow, you will find a club with four modern floodlit... | |
| | | |
| --- | --- | --- |
| | Xscape Braehead houses one of the largest freestanding climbing walls in the UK! With over sixty roped 10 metre high climbs of varying difficulty, Climbzone is the ideal place to take your first... | |
| | | |
| --- | --- | --- |
| | Looking for somewhere to take family, friends or colleagues for a fun yet active trip out? At AMF Bowling we offer a safe and exciting environment for kids and adults alike with bumpers and ramps for... | |
| | | |
| --- | --- | --- |
| | Gifted to the people of Paisley by Thomas Coats and designed by Glasgow Architect John Honeyman, Coats Observatory opened in 1883 and has been welcoming everyone with an interest in astronomy ever... | |
| | | |
| --- | --- | --- |
| | The Sma' Shot Cottage complex is unique in Scotland, providing visitors with the opportunity to see two distinct periods in Paisley's weaving history. From Shuttle Street you will enter the... | |
| | | |
| --- | --- | --- |
| | Culzean is one of Scotland's best loved Castles, offering something for everyone to enjoy. Situated on the South Ayrshire coast, just off the A719, Culzean Castle is located 12 miles south of Ayr and... | |
| | | |
| --- | --- | --- |
| | The Summerlee Heritage park is a museum of social and Industrial history. "The aim of the Museum is to preserve and interpret the history of the local Iron, Steel, Coal and engineering... | |
| | | |
| --- | --- | --- |
| | Dundonald Castle is one of those monuments to our history that is testimony not only to the past toil and skills of the locals but to those of its present neighbours. Dundonald Castle is in its own... | |
| | | |
| --- | --- | --- |
| | Inveraray Jail is a living museum and top Scottish visitor attraction where real people portray life in a 19th century prison. Interact with costumed characters, watch courtroom trials, talk to the... | |
| | | |
| --- | --- | --- |
| | Tobermory with it's colourful waterfront was chosen by the BBC as the location of the popular children's television series Balamory. The houses are situated in Tobermory apart from Archie's Castle... | |
| | | |
| --- | --- | --- |
| | Vikingar! is located on Greenock Road, across from the seafront, towards the north end of the Prom. The main attraction is the Viking Experience, which has interactive exhibits with storytellers... | |
| | | |
| --- | --- | --- |
| | multi level indoor soft play is a clean, safe and colourful environment provided for physical family fun and children's parties. Located within Irvine town centre, we are only minutes from the main... | |
| | | |
| --- | --- | --- |
| | Funky Monkeys Indoor Play 1 Muiryhall Street Coatbridge Glasgow Strathclyde ML5 3EA Telephone: 01236 436516 | |
| | | |
| --- | --- | --- |
| | Cheeky Monkees is a soft play area for children of all ages. As well as the 3 level main play area there is a separate toddler's area. There are various slides, ball pits and climbing nets and... | |
| | | |
| --- | --- | --- |
| | If you like slides then you'll love Bilcos. They have three great slides, all of them different. Dare you try the drop slide, or get dizzy on out helter skelter. Bring a friend and challenge them to... | |
| | | |
| --- | --- | --- |
| | Animal Magic Soft Play Glenburn Road 2 College Milton East Kilbride Strathclyde G74 5BA Telephone: 01355 223622 | |
| | | |
| --- | --- | --- |
| | With five levels of slides, climbs, tubes and spinners, THE BIG ADVENTURE is the ultimate fun experience and will test your skills to the limit. | |
| | | |
| --- | --- | --- |
| | Jurassic Jungle is Glasgow's amazing Indoor Adventure Soft Play Centre. Unique dinosaur themed environment Giant Soft Play frame for children from 3 - 12 years old Separate Toddler's Soft Play frame... | |
| | | |
| --- | --- | --- |
| | The UK's highest indoor slide, Drive In cinema, Baby Park and quality restaurant. All under the same roof as EKPark – Scotland's most exciting indoor skatepark. Situated in East... | |
| | | |
| --- | --- | --- |
| | Big Adventure Play Stucture, Ball Pool and Slide, Interactive Electronics, Non Violent PlayStation & PC Games, Toys, Games, Playdough, Home Corner and many other activities to keep your young... | |
| | | |
| --- | --- | --- |
| | The "Place to Play" for any parent or carer with a child under five. Open 5 days a week Mon - Fri , we offer activities to suit babies, toddlers and pre-schoolers, in a great... | |
| | | |
| --- | --- | --- |
| | A new £9m sports and leisure facility has opened at the Broadwood stadium in Cumbernauld. The leisure centre has a state of the art gym overlooking the football pitch, fitness studios and... | |
| | | |
| --- | --- | --- |
| | The Zone is a unique family entertainment centre offering 3 great activities. With Lasertag, Softplay and Trampolines all under one roof, we offer a great place to come and play or party ... | |
| | | |
| --- | --- | --- |
| | The massive space themed arena has been developed with your family's security and safety as our main priority. Each of the three adventure zones are dedicated to different ages of space... | |
| | | |
| --- | --- | --- |
| | Our indoor Family Entertainment Centre is one of the largest in Scotland and packed full of fun for everyone. Parents can join their children on the giant Pirate ship 'The Giggling... | |
| | | |
| --- | --- | --- |
| | Rainforest Adventure is an exciting new indoor soft play centre for children. Rainforest Adventure provides a completely unique experience for children and parents. Delve into the rainforest with its... | |
| | | |
| --- | --- | --- |
| | We are an established premium play centre who have been in the area for twelve years. We have an impeccable safety record. The kids experience two hours of fun activities which can be extended using... | |
| | | |
| --- | --- | --- |
| | Junglee Fun Play Centre 71/73 Old Mill Road Uddingston Strathclyde G71 7PF Telephone: 01698 811301 | |
| | | |
| --- | --- | --- |
| | We take pride in the fact that we are one of the very few play centres in the UK that own their own ball-pool cleaning machine. We aim to clean the pools every two weeks. This, of course, may be more... | |
| | | |
| --- | --- | --- |
| | Whale Of A Time Indoor Playcentre 1273 Pollokshaws Road Shawlands Glasgow Strathclyde G41 3RR Telephone: 0141 649 5455 | |
| | | |
| --- | --- | --- |
| | The activity centre has been established since 2004. There is plenty to see and do whatever the weather. We have Scotland's biggest indoor adventure play, Scotland's first mini... | |
| | | |
| --- | --- | --- |
| | Sunday - Wednesday 11AM - 6PM (please call to check) Thursday - Friday 10AM - 8PM (please call to check) Saturday 10am - 8pm (please call to check) Toddler Sessions Monday - Friday 11AM - 3PM After... | |
| | | |
| --- | --- | --- |
| | The play area is equipped with an uniquely "jungle" themed play frame. We have a wave slide, a giraffe slide, ball pool, climbing frame, monkey cargo nets and a fantastic sports court that... | |
| | | |
| --- | --- | --- |
| | The Citadel Leisure Centre is a multi activity sports and entertainments facility. The Main Hall (34m x 27m) can be used for a variety of sports including football, basketball, badminton, hockey... | |
| | | |
| --- | --- | --- |
| | Situated on Dumbarton Common, right next to Dumbarton Central railway station and just a few minutes walk from Dumbarton's main shopping area. The Meadow Centre complex offers a wide range of... | |
| | | |
| --- | --- | --- |
| | Welcome to the Play Drome, a major leisure facility in the centre of Clydebank. Located next to Clydebank Shopping Centre and Clydebank Central railway station, we are only 20 minutes from the centre... | |
| | | |
| --- | --- | --- |
| | Since opening in 1995 Hamilton Water Palace has become South Lanarkshire Leisure's most popular swimming pool boasting an average of over 1,000 visits a day. The centre's swimming facilities range... | |
| | | |
| --- | --- | --- |
| | Harbourside Irvine KA12 8PP Tel: 01294 278381 K:A Studio: 01294 317468 Download Leisure Guide Facility Opening Times Monday  9.00am – 9.00pm Tuesday 9.00am –... | |
| | | |
| --- | --- | --- |
| | The Waterfront Leisure Complex is ideal to get away from it all. Come along and enjoy a great day out with the whole family. A leisure centre with a unique combination of water... | |
| | | |
| --- | --- | --- |
| | The Vale of Leven Swimming Pool has had many improvements to meet the ever changing leisure requirements of our customers. The pool, located close to the Vale of Leven Hospital and the popular Lomond... | |
| | | |
| --- | --- | --- |
| | The Time Capsule Monklands Trust Limited is the brainchild of the former Monklands District Council and represented the local authority's commitment to developing tourism in the region. The Time... | |
| | | |
| --- | --- | --- |
| | The Riverside Museum: Scotland's Museums of Transport and Travel is now open. Glasgow's well-loved Museum of Transport has relocated to this spectacular waterfront... | |
| | | |
| --- | --- | --- |
| | The People's Palace tells the? story of Glasgow and its people The People's Palace, set in historic Glasgow Green, tells the story of the people and city of Glasgow from... | |
| | | |
| --- | --- | --- |
| | Glasgow Science Centre is one of Scotland's must-see visitor attractions - presenting concepts of science and technology in unique and inspiring ways. Glasgow Science Centre is an independent... | |
| | | |
| --- | --- | --- |
| | Lamont City Farm is a vibrant community project located in Erskine, Renfrewshire. Our farmyard opens 7 days a week, 10.30am to 4.30pm summer, and 11.00am to 3.30pm winter. At Lamont Farm, you... | |
| | | |
| --- | --- | --- |
| | Amazonia - a unique place for fun and learning for all ages. In an ever-changing environment, you will discover the secrets of the vast Amazon Rainforest, stretching over 2.5 million square miles... | |
| | | |
| --- | --- | --- |
| | For a unique visitor experience, come along to our centre. You will be given a guided tour by one of our knowledgeable volunteers or staff members. Learn about the individual birds, see them close... | |
| | | |
| --- | --- | --- |
| | Sea Life Surveys, established over twenty five years ago in 1982, was the first and is now the most experienced whale watching, porpoise, shark and dolphin watching, marine survey, and education... | |
| | | |
| --- | --- | --- |
| | In a magnificent mountainside setting on the Cowal Peninsula lies Benmore, an enchanting Garden steeped in history and surrounded by dramatic scenery. Benmore's 120 acres boast over 300 species... | |
| | | |
| --- | --- | --- |
| | At Heads of Ayr Farm Park - whatever the weather - you'll find plenty to see and do, with activities for all ages. We've almost 50 different types of animal, each with its own particular charm. Meet... | |
| | | |
| --- | --- | --- |
| | FUN FACTORY (Indoor Play Building) OPENING TIMES Sunday - Thursday 12noon - 8pm. Friday & Saturday 12noon - 9pm. PARTY PACKAGES Please ring for details on party packages.... | |
| | | |
| --- | --- | --- |
| | Children can enjoy playing in the indoor play area and for older children the outdoor play area. | |
| | | |
| --- | --- | --- |
| | Set on the edge of a residential area we are in a fantastic location only 100 yards from the Scottish Museum of Country Life, close to the James Watt Heritage Park and a mile from Kings Gate Retail... | |
| | | |
| --- | --- | --- |
| | FUN HOUSE - Indoor Play Building for children up to 4ft 9ins tall OPENING TIMES Daily 10am - 8pm (last admissions 7pm). PARTY PACKAGES Range of Party Packages with exclusive parties... | |
| | | |
| --- | --- | --- |
| | FUN FACTORY (Indoor Play Building) OPENING TIMES Sunday - Thursday 12noon - 8pm. Friday & Saturday 12noon - 9pm. TOTS TIME Friday 10am - 12mn. PARTY PACKAGES Please... | |
| | | |
| --- | --- | --- |
| | FUN FACTORY (Indoor Play Building) OPENING TIMES Monday - Thursday 12noon - 8pm. Friday -Sunday 12noon - 9pm. PARTY PACKAGES Please ring for details on party... | |
| | | |
| --- | --- | --- |
| | From the beer garden of this traditional Brewers Fayre pub we overlook a green field - a pleasant place to sit and have a drink while the children play in the outdoor play area. | |
| | | |
| --- | --- | --- |
| | The restaurant has a deck for enjoying fine weather and external kids play area but if the weather is less friendly then younger children can have fun in the tots TV room (for pre school kids). | |
| | | |
| --- | --- | --- |
| | FUZZY ED'S FUN HOUSE Come and meet the Fuzzoids (Indoor Play Building - for children up to 4ft tall) OPENING TIMES Sunday - Thursday 11am - 7pm. Friday & Saturday 11am - 8pm. Last... | |
| | | |
| --- | --- | --- |
| | Kid'z Play is a purpose built jungle theme indoor play centre for children. Let your child's imagination run riot on the snake slides, tube slides, activity towers, ball pool and soft play area for... | |
| | | |
| --- | --- | --- |
| | General skating Learn to skate Curling 50+ skaters session Friday freeze | |
| | | |
| --- | --- | --- |
| | Following a multi-million pound refurbishment, East Kilbride's well known and much loved Dollan Aqua Centre re-opened its doors on Saturday 28 May 2011. The Dollan Aqua Centre, built in 1968 and... | |
| | | |
| --- | --- | --- |
| | A visit to Torosay Castle and Gardens set on the magnificent Island of Mull is an experience not to be missed. We welcome you to a place whose beauty we hope to preserve for future generations,... | |
| | | |
| --- | --- | --- |
| | Built to an unusual circular plan, Rothesay Castle had a long and close association with the Stewart Kings of Scotland. Location In Rothesay, Isle of Bute. Ferry from Wemyss Bay on the A78. ... | |
| | | |
| --- | --- | --- |
| | A fine tower house, probably a 16th-century reconstruction of an earlier building. | |
| | | |
| --- | --- | --- |
| | Colin Campbell, 1st of Glenorchy. Much enlarged in 1693 it incorporates the first purpose built barracks in Scotland. The substantial ruins are some of the most picturesque in the country with... | |
| | | |
| --- | --- | --- |
| | The family home of the Earls of Glasgow, Kelburn has long been an inspiration for adults and a paradise for children. The castle, dating back to the 13th century, still lived in by the present Earl... | |
| | | |
| --- | --- | --- |
| | One of the most spectacular and unique sites on the West Coast of Scotland, the position of Duart was well chosen. The castle stands on a crag at the end of the peninsular jutting out into the... | |
| | | |
| --- | --- | --- |
| | An important early artillery fortification with an exceptional residential tower and fine setting, Craignethan dates back to around 1530. The oldest part is the tower house built by Sir James... | |
| | | |
| --- | --- | --- |
| | Features Native woodlands with a superb network of trails A stunning castle with a superb history and stunning collections of art, furniture, silver and more. Dramatic gorges with water-carved... | |
| | | |
| --- | --- | --- |
| | Bothwell is Scotland's largest and finest 13th century castle. Part of the original circular keep survives. Location At Uddingston off the B7071. Region - Glasgow, Clyde and Ayrshire. ... | |
| | | |
| --- | --- | --- |
| | The Glasgow Police Museum provides an insight into the people, events and other factors which contributed to the founding, development and progress of Britain's first Police force, the City of... | |
| | | |
| --- | --- | --- |
| | Welcome to the website for New Lanark World Heritage Site, a beautifully restored 18th century cotton mill village in Southern Scotland, close to the Falls of Clyde and less than an hour from... | |
| | | |
| --- | --- | --- |
| | Renfrew Victory Baths Renfrew Victory Baths is an Edwardian 25 yard pool with a great sense of history and tradition. Just being in the pool can experience this history. 'Dip back in... | |
| | | |
| --- | --- | --- |
| | Renfrew Leisure Centre This excellent new sports facility opened its doors to the public in June 2004 and has become hugely popular with the people of Renfrew thanks to its range of programmes... | |
| | | |
| --- | --- | --- |
| | McMaster Sports Centre A small community indoor sports hall with grassed football park, the McMaster Centre offers a venue for sports services and activities to meet the need of the local... | |
| | | |
| --- | --- | --- |
| | Linwood Sports Centre Linwood Sports Centre is one of the most diverse sports centres within Renfrewshire Leisure with an activity list ranging from badminton and football to athletics and... | |
| | | |
| --- | --- | --- |
| | Lagoon Leisure Centre The Lagoon Leisure Centre is the Flagship Centre of Renfrewshire Leisure, and offers activities to suit everyone! At its heart is a free form Leisure Pool with an area for... | |
| | | |
| --- | --- | --- |
| | Johnstone Swimming Pool A traditional 25 metre pool, the deepest pool in Renfrewshire with a depth of 3 meters. Johnstone Swimming Pool offers a separate learner's pool as well as the main... | |
| | | |
| --- | --- | --- |
| | Erskine Swimming Pool A 25m community pool nick named the 'Friendly Pool' by the local population. Erskine pool has been designed with a deep water area in the middle and shallow water... | |
| | | |
| --- | --- | --- |
| | Erskine Community Sports Centre This excellent modern community sports centre offers a multi sports surface 4 court main hall, dance studio and meeting room as well as a magnificent well appointed... | |
| | | |
| --- | --- | --- |
| | Elderslie Leisure Centre A small 25 metre pool which offers a range of leisure services with a great community atmosphere. Ideal for all age groups. As well as the pool, the centre also has its... | |
| | | |
| --- | --- | --- |
| | Scotland's influence on the maritime history of the world from the eighteenth century to the modern day has been enormous and out of all proportion to the size of the Country. The three sites... | |
| | | |
| --- | --- | --- |
| | As well as helping millions of people to discover the marvels of the marine world the SEA LIFE network has an important role to play in helping safeguard our seas and their inhabitants for the... | |
| | | |
| --- | --- | --- |
| | The Museum was set up through the enthusiasm and vision of the late Arthur Allan. It is operated by a Trust and is a Registered Charity. A recent legacy from Miss Josephine Bennett, a founder member,... | |
| | | |
| --- | --- | --- |
| | Nestling in a mature spruce forest on the shores of beautiful Loch Creran the Scottish Sealife Sanctuary enjoys one of the most picturesque settings in Britain, and is home to some of the UK's most... | |
| | | |
| --- | --- | --- |
| | M&D's, Scotland's Family Theme Park, spread over 20 acres in beautiful Strathclyde Country Park Over 40 major rides and attractions Free access to the massive indoor family complex Home to... | |
| | | |
| --- | --- | --- |
| | Loudoun Castle, Scotland's Family Theme Park, set in 500 acres of magnificent parkland and with the imposing, historical castle as a stunning backdrop, this 4 star visitor attraction is unique with a... | |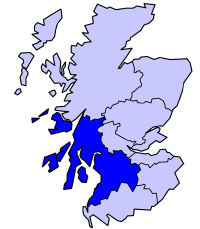 Welcome to the beautiful Scottish county of Strathclyde. If you need child friendly ideas where to take the kids, kids days out, or fun things to do with the kids in Strathclyde then we can help. We have family pubs with kids play areas, soft play areas, indoor play areas, outdoor play areas, playgrounds, aquariums, castles, stately homes, childrens clubs such as Scouts, Cubs, Beavers, Brownies, Guides, youth clubs, activity centres, Air, Sea, Army Cadets. We list childrens entertainers in Strathclyde if you are planning a birthday, cinema, theatre, petting zoo, animal farms, childrens farms, leisure hire, museum and art gallery, nature areas such as parks, and countryside walks and beaches. We have kids activities related to outdoor pursuits and sports such as swimming, ice skating, ten pin bowling and football centres. We list theme parks and fairgrounds in Strathclyde. If you are looking for zoos with more exotic animals then we have them. Don't forget to look at the nearby counties of Scottish Borders, Dunfries and Galloway, Lothian, Central, Tayside, Highlands

,

to see what they can offer you. We have days out with the kids in Strathclyde in and near Airdrie, Bearsden, Clydebank, Coatbridge, Cumbernauld, Dalmellington, Glasgow, Greenock, Irvine, Kilmarnock, Kirk of Shotts, Motherwell, Paisley, Wishaw.

Strathclyde is an area in Scotland made up of the following counties :- Argyll and Bute, East Ayrshire, East Dunbartonshire, East Renfrewshire, Glasgow, Inverclyde, North Ayrshire, North Lanarkshire, Renfrewshire, South Ayrshire, South Lanarkshire, West Dunbartonshire.