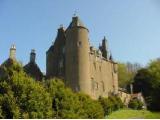 Looking for:
Historical, Outdoor / Active, Parks & Gardens
Address:
South Offices
Fairlie
Ayrshire
Postcode:
KA29 0BE
Kids Activity:
Indoors and Outdoors
Telephone:
+44 (0)1475 568 685
Website:
Click Here
---
The family home of the Earls of Glasgow, Kelburn has long been an inspiration for adults and a paradise for children.
The castle, dating back to the 13th century, still lived in by the present Earl and family, is open to the public in July and August and provides an impressive background to exotic gardens, famous trees and many features of historical interest.
The Kelburn Glen with its waterfalls and deep gorges is regarded as one of Scotland's most beautiful woodlands and leads to spectacular views over the islands of the Firth of Clyde.