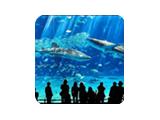 Looking for:
Aquariums
Address:
Loch Lomond Aquarium
Loch Lomond Shores
Ben Lomond Way
Balloch
Scotland
Postcode:
G83 8QL
Age Group:
All Ages
Kids Activity:
Indoors
Telephone:
01389 721500
Website:
Click Here
Attraction Information:
---
As well as helping millions of people to discover the marvels of the marine world the SEA LIFE network has an important role to play in helping safeguard our seas and their inhabitants for the future.
As well as fostering conservation through enhanced awareness,
SEA LIFE regularly makes a more direct contribution towards conservation and marine animal welfare.
In recent years a special programme has been established to manage and develop these activities. That programme is called Save Our Seas – S.O.S for short.
Many of the fish that humans eat are in danger of disappearing from our seas because too many are being caught. This is not the fault of fishermen. The blame can be laid squarely at the door of the bureaucrats who fail year after year, to set sensible limits on fishing which will allow populations to recover.
WWF decided to highlight this on-going problem with a fun computer game. The object is to get the seagull to 'poop on the bureaucrat' …not on the poor fishermen. Follow the link to test your own pooping skills!
Opening Time:
Open Daily From 10am
Last Admission 4pm closes at 5pm
On the Day Price ONLINE PRICE Saving
Super Saver
(ADULT OR CHILD OVER 3 YEARS)
£13.95 From £9.77 30%
2 Or More People
Admission for 2 or more people (aged 3 and over)
£12.30 £8.61 30%
Child
(UNDER 3)
FREE