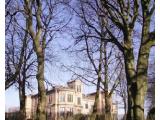 Looking for:
Historical, Parks & Gardens, Outdoor / Active
Address:
Barshaw Park
165 Glasgow Road
Paisley
Strathclyde
Postcode:
PA1 3TJ
Kids Activity:
Outdoors
Telephone:
0141 842 4448
Website:
Click Here
Attraction Information:
---
In the early years of the 20th century, Paisley Burgh Council was looking for a site for a park which would be suitable for use by the public for recreational purposes. Extensive grounds at Barshaw, which covered some 55 acres, were bought from the Arthur family in December 1911. The Arthur family was well known in Paisley and owned several firms in Glasgow. Work was carried out on the park to bring it up to a suitable standard before its official opening on 15 June 1912.