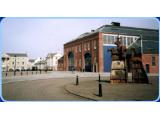 Looking for:
Museums / Galleries, Transport
Address:
Scottish Maritime Museum
Harbourside, Irvine, Ayrshire, Scotland,
Postcode:
KA12 8QE
Age Group:
All Ages
Kids Activity:
Indoors and Outdoors
Telephone:
+44 (0)1294 278283
Website:
Click Here
Attraction Information:
---
Scotland's influence on the maritime history of the world from the eighteenth century to the modern day has been enormous and out of all proportion to the size of the Country. The three sites operated by the Scottish Maritime Museum contain the exhibitions and collections that tell the story of that great maritime tradition. On two of the sites the buildings themselves are important parts of that story. The sites are complemented by the collection of vessels that represent 150 years of the working vessels of Scotland.
If your interests are in the detailed aspects of the building of ships or the way in which ordinary people interacted with the sea, then the Scottish Maritime Museum should be your first port of call. If you want to undertake detailed research or just an enjoyable and stimulating day out, the Scottish Maritime Museum can provide it.
The Scottish Maritime Museum's professional team can assist you with your questions about maritime heritage or train you to build or repair vessels in the traditional manner. Our sites apart from offering a great day out are the venue for concerts, exhibitions and events. When ever possible the working parts of our sites are made available for the public to view and our historic machinery or vessels continue to operate.
The Scottish Maritime Museum continues to improve its facilities adding new exhibitions and displays.
The Museum is sited at three locations
Scottish Maritime Museum, Irvine
Denny Ship Model Experiment Tank, Dumbarton
Opening Times:
1st March to 22nd December
10am – 5pm
Many of our vessels are in working condition and can be seen at Irvine and Braehead. Some provide trips for visitors at special events and bank holidays.
Museum Services
Parties are welcome at all three sites.
Visits can be arranged, including special tours outside normal working hours, at any of our centres. School visits can be organised to suit the needs of different age groups. Catering can be provided on visits to Irvine.
Special discount prices are available for group bookings.
The Museum holds important collections of documents, books, plans and photographs. Visits to the research department in Irvine are by appointment only and requests for information should be made in writing wherever possible. Museum staff can provide illustrated lectures on a number of subjects.
Are you interested in restoring old vessels and machinery, in maritime research or working with public? There are opportunities for volunteers to help at the museum.