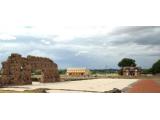 | | |
| --- | --- |
| Venue Info: | Parking |
| Looking for: | Heritage, Historical, Parks & Gardens |
| Address: | Wroxeter Roman City, Wroxeter, near Shrewsbury, Shropshire, SY5 6PH |
| Postcode: | SY5 6PH |
| Age Group: | All Ages |
| Kids Activity: | Outdoors |
| Telephone: | 0370 333 1181 |
| Mobile: | 01743 761330 |
| Website: | Click Here |
---
Discover urban-living 2,000 years ago at Viriconium (Wroxeter) - once the fourth largest city in Roman Britain. Wander the remains of the bathhouse and explore a reconstructed town house from a city which was almost as large as Pompeii. Discover the daily lives of the people who lived here with the audio tour and through their objects - found here and on display in the museum.
FURTHER PRICING DETAILS:
Prices are valid from 1st April, if you are visiting before this date you may find prices are less than those advertised.
ABOUT GIFTAID
The Gift Aid admission price includes a voluntary donation of 10%. Provided you have paid enough UK Income or Capital Gains Tax * (to cover all of your Gift Aid donations in this tax year), English Heritage is able to reclaim tax on the whole amount you have paid - that's 25p on every £1. This extra money enables us to undertake vital conservation and education projects and ensure that many of England's most important historic sites can continue to be enjoyed by future generations.
* Other taxes such as Council Tax and VAT do not apply.
Parking - Charge payable for members and non-members. Members' parking concessionary rate available during opening times only
OPENING TIMES
1 APRIL - 30 SEPTEMBER 2017
NOTES
Last admission half an hour before closing.
HOLIDAY OPENING TIMES FOR THIS PERIOD
Good Friday
14 Apr 2017
10:00 - 18:00
Easter Sunday
16 Apr 2017
10:00 - 18:00
Easter Monday
17 Apr 2017
10:00 - 18:00
Early May Bank Holiday
Spring Bank Holiday
29 May 2017
10:00 - 18:00
Summer Bank Holiday
28 Aug 2017
10:00 - 18:00
1 OCTOBER - 31 OCTOBER 2017
1 NOVEMBER 2017 - 29 MARCH 2018
30 MARCH 2018 ONWARDS
Opening times will be available nearer the time