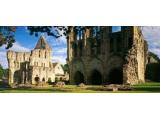 | | |
| --- | --- |
| Venue Info: | Parking |
| Looking for: | Heritage, Historical, Parks & Gardens |
| Address: | 5 Sheinton Street, Much Wenlock, Shropshire, TF13 6HS |
| Postcode: | TF13 6HS |
| Age Group: | All Ages |
| Kids Activity: | Outdoors |
| Telephone: | 0370 333 1181 |
| Mobile: | 01952 727466 |
| Website: | Click Here |
---
The tranquil ruins of Wenlock Priory stand in a picturesque setting on the fringe of beautiful Much Wenlock. An Anglo-Saxon monastery was founded here in about 680 by King Merewalh of Mercia, whose abbess daughter Milburge was hailed as a saint. Her relics were miraculously re-discovered here in 1101, attracting both pilgrims and prosperity to the priory.
By then Wenlock had been re-founded by the Normans as a priory of Cluniac monks. It is the impressive remains of this medieval priory which survive today, everywhere reflecting the Cluniac love of elaborate decoration. Parts of the great 13th century church still stand high.
Much Wenlock was also the home of Dr. William Penny Brookes (1809-95), originator of the still-continuing Wenlock Olympian Games, a major inspiration for the modern International Olympics.
GUIDEBOOK: WENLOCK PRIORY
Price: £2.99
FURTHER PRICING DETAILS:
Prices are valid from 1st April, if you are visiting before this date you may find prices are less than those advertised.
ABOUT GIFTAID
The Gift Aid admission price includes a voluntary donation of 10%. Provided you have paid enough UK Income or Capital Gains Tax * (to cover all of your Gift Aid donations in this tax year), English Heritage is able to reclaim tax on the whole amount you have paid - that's 25p on every £1. This extra money enables us to undertake vital conservation and education projects and ensure that many of England's most important historic sites can continue to be enjoyed by future generations.
* Other taxes such as Council Tax and VAT do not apply.
OPENING TIMES
1 APRIL - 30 SEPTEMBER 2017
NOTES
Last admission half an hour before closing.
HOLIDAY OPENING TIMES FOR THIS PERIOD
Good Friday
14 Apr 2017
10:00 - 18:00
Easter Sunday
16 Apr 2017
10:00 - 18:00
Easter Monday
17 Apr 2017
10:00 - 18:00
Early May Bank Holiday
Spring Bank Holiday
29 May 2017
10:00 - 18:00
Summer Bank Holiday
28 Aug 2017
10:00 - 18:00
1 OCTOBER - 31 OCTOBER 2017
1 NOVEMBER 2017 - 18 FEBRUARY 2018
19 FEBRUARY - 23 FEBRUARY 2018
24 FEBRUARY - 29 MARCH 2018
30 MARCH 2018 ONWARDS
Opening times will be available nearer the time