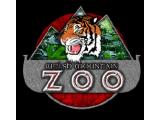 Looking for:
Animals & Farms, Zoos & Wildlife
Address:
The Welsh Mountain Zoo
Colwyn Bay
Clwyd
Postcode:
LL28 5UY
Kids Activity:
Indoors and Outdoors
Telephone:
(0)1492 532 938
Website:
Click Here
Attraction Information:
---
The completion of a new £100,000 Condor Haven at the Welsh Mountain Zoo in Colwyn Bay has led to the creation of a unique project between conservationists in Ecuador and Wales. The project, titled Condor Huasi, (translating into "House of the Condor" from the native Indian Quichua language), is a wildlife conservation and education initiative that aims to raise awareness among children and the general public of Ecuador on the importance of environmental and wildlife conservation in the Andean highlands known as Paramo - with specific emphasis on the issues concerning the survival of its "anchor species" the Andean Condor. The Zoos' Andean condors Sonya and Gus, who have been chosen as part of a carefully controlled European Breeding Programme have be resident at the Zoo for over 20 years. Their new home boasts 2 breeding caves, lots of perches and a pool for bathing! It was built as part of an improvement and development programme at the Zoo and hopes are high for the condors breeding next year. Using the new facility as a focal point, the Zoo aims to raise awareness of the project amongst visitors.
Our Snow Leopards A pair of magnificent Snow Leopards, are the latest exciting arrivals at the Welsh Mountain Zoo. Female, Otilia, born in Tallin Zoo in Estonia on 29th April 2005 and male, Szechuan, born in Szeged Zoo in Hungary on 2nd May 2005, are settling into their new home in Colwyn Bay, after travelling from the furthest corners of Europe. The leopards have been selected as a potential breeding pair as part of a carefully controlled conservation programme.(Photo: Richard Williams ) Our Web Camera is now operational and sited in the African Aviary.
Our Weather station is also online with current readings updating themselves every 5 minutes. Set in North Wales, high above Colwyn Bay with panoramic views and breathtaking scenery. Spend a perfect day at this family friendly Zoo, in the company of rare and endangered animals from Britain and around the World including red pandas, brown bears, monkeys and tigers! Don't miss the things that make us zoonique! The penguin parade, sealion shows and chimp encounter, Bear Falls , the childrens farm and much more including the exciting and extensive Jungle Adventureland and the Cafe Safari and 'Tarzan Trail' Adventure playground.
For the more technically inclined there is our Media Centre where you can do a virtual tour of the Zoo and play some great educational computer games. Please come and see us soon and help us in our work. At Easter and from May to mid September the Zoo's free minibus will operate a continuous daily service from Colwyn Bay Railway Station