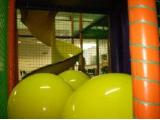 Looking for:
Indoor Play Areas
Address:
Unit 7 Sandbeds trading estate
RCM business centre
Osset
Postcode:
WF5 9ND
Age Group:
Toddlers, 3-5, 6-9
Kids Activity:
Indoors
Telephone:
01924 283849
Website:
Click Here
Attraction Information:
---
Here at The Play Station !!! we aim to offer those famalies with both younger and older children a place to visit that all the family can enjoy.
Offering fun for ages 0 -12. he Play Station will have a play area, sports court, climbing wall and party rooms
Offering a full range of meals and snacks, all being healthy & nutritionally balanced.
The Play Station is a joint venture between long time friends Mrs Dawn Greaves & Mrs Karen Yardley.
Karen is a nurse and mother of 2 boys aged 3 and 10. Dawn is a local Childminder and mother of 2 boys aged 8 and 11.
Having to constantly find places to go to stimulate a wide range of ages the pair realised there was a niche in the market and after 2 years of planning and organising what the pair now have is The Play Station !!!
Monday - Friday 9:00 a.m. – 6:00 p.m.
Saturday - Sunday 10:00 a.m. – 5:00 p.m.
Prices:
Monday – Friday
Walkers £2.50 Crawlers £1.50
Babies 50p
Saturday – Sunday
Walkers £3.00
Crawlers £2.00
Babies 50p
Childminders and Foster Parents:
£2.00 Per child