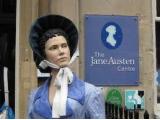 Looking for:
Heritage, Museums / Galleries, Heritage, Museums / Galleries
Address:
The Jane Austen Centre
40 Gay Street
Queen Square
Bath
Somerset, The Jane Austen Centre
40 Gay Street
Queen Square
Bath
Somerset
Postcode:
BA1 2NT, BA1 2NT
Age Group:
All Ages, All Ages
Kids Activity:
Indoors, Indoors
Telephone:
01225 443000, 01225 443000
Website:
Click Here, Click Here
---
The exhibition at the Jane Austen Centre in Bath has been created with the guidance of local members of the Jane Austen Society and authorities on Jane Austen.
Open all year

Summer
2nd April to 30th October
Open every day 9.45am to 5.30pm
Late opening July and August – Thursday to Saturday until 7pm
Winter
1 November 2010 to 1st April
Sunday to Friday11am to 4.30pm Saturday 9.45am to 5.30pm
Except Feb 18 2011 to Feb 26 – 9.45am to 5.30pm (School Half Term)
Closed Dec 24 – 26 and 1 January.
ADMISSION PRICES:
ADULT: £7.45SENIOR/STUDENT: £5.95
CHILD: 6-15 £4.25 (under 6 free with an adult)
FAMILY: £19.50 (2 adults with up to 4 children)
The Centre has wheelchair access to the ground floor only.
Don't forget to pick up your Jane Austen Centre brochure at the Tourist Information Centre next to Bath Abbey.