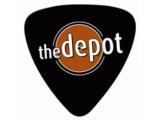 Looking for:
Outdoor / Active
Address:
The Depot
173 Richardshaw Lane
Pudsey
Leeds
West Yorkshire
Postcode:
LS28 6AA
Telephone:
0113 3459295
Website:
Click Here
Attraction Information:
---
For those not in the know who prefer their feet on the ground, the definition of bouldering is low level climbing free from ropes and harnesses, it can be just as difficult as other types of climbing but because of the low height it's ideal for kids and beginners too.
It's bottomed out with heavy safety matting as well so when the inevitable happens it'll hurt as little as possible!
Anyone wanting to start climbing here needs to undertake an induction training session, where a friendly professional will guide you through the basics so you can be safe continuing your discovery of climbing unaided later on. Membership comes with the induction which then gets you discounted entry in future. Neat!
Once you're on track there are kids' clubs to choose from as well as private coaching, with Single Deckers sessions are for 7 to 11 year olds, while the Double Decker is 12 to 16 year olds; Open Access sessions welcome everyone!
Admission:
Adult £8
Concession £7
Under 16 £6
Boot hire £2.50
Chalkbag hire £1.50
Kids' Clubs £6.50 per session (inc equipment) £5.50 (without equipment)
Inductions £15
Opening Times:
Monday to Friday 11am to 10pm
Saturday and Sunday 10am to 8pm
Bank Holidays 10am to 8pm