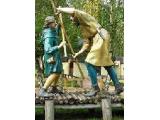 Looking for:
Outdoor / Active, Outdoor Play Areas, Parks & Gardens
Address:
Sherwood Forest Country Park
Edwinstowe
Mansfield
Nottinghamshire
Postcode:
NG21 9HN
Telephone:
0845 330 4212
Website:
Click Here
---
The legendary stomping-ground of Robin Hood, this 450 acre country park is now part of the Sherwood Forest National Nature Reserve and home to a fascinating eco-system. The forest has 900 veteran oak trees including England's Tree of the Year 2014, The Major Oak.
Browse around the Visitor Centre shops or relax after a stroll in the Forest Table Restaurant. Take a walk to the mighty Major Oak, pick up one of our fun family nature trails, or just stand and admire the weird and wonderful shapes of the ancient oak trees, twisted by age and weathered into living sculptures.
Take time out to appreciate the unique ecology of Sherwood. The natural decay of fallen wood means the woodland teems with insect life, fungi, birds and bats. In partnership with the Sherwood Trust, we currently have a woodland grazing project at Sherwood, with Hebridean sheep and Dexter cattle helping ensure that open areas of medieval heathland do not revert to scrub.
Something for everyone
Sherwood Forest Country Park welcomes around 500,000 visitors each year, ranging from local residents to overseas tourists, from special needs groups to school outings. We welcome volunteers prepared to help out with the work of the park, for example, by helping as a marshall at seasonal events, or lending a hand with litter picking.
admission to the park is free. £3 car parking charge (free on certain dates – check calendar)
car parks open 10am – 5.30pm
dogs welcome
open every day, see winter opening hours
home to the annual Robin Hood Festival (1-7 August 2016)