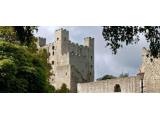 | | |
| --- | --- |
| Looking for: | Heritage, Historical |
| Address: | Rochester, Kent. |
| Postcode: | ME1 1SW |
| Age Group: | All Ages |
| Kids Activity: | Outdoors |
| Telephone: | 0370 333 1181 |
| Website: | Click Here |
---
Strategically placed astride the London Road, guarding an important crossing of the River Medway, this imposing fortress has a complex history of destruction and rebuilding. Today it stands as a proud reminder of the history of Rochester along with the cathedral and cobbled streets.
Its Norman tower-keep of Kentish ragstone was built about 1127 by William of Corbeil, Archbishop of Canterbury, with the encouragement of Henry I. Consisting of three floors above a basement, it still stands 113 feet high. Attached is a tall protruding forebuilding, with its own set of defences to pass through before the keep itself could be entered at first floor level.
In 1215, garrisoned by rebel barons, the castle endured an epic siege by King John. Having first undermined the outer wall, John used the fat of 40 pigs to fire a mine under the keep, bringing its southern corner crashing down. Even then the defenders held on, until they were eventually starved out after resisting for two months.
Rebuilt under Henry III and Edward I, the castle remained as a viable fortress until the sixteenth century.
Look out for Volunteering opportunities at historic sites in Medway.
Rochester Castle and its events are managed by Medway Council.
Family Craft Activities: The Norman Conquest - Tuesdays & Thursdays 25 July – 2 September, 10.30am-3.30pm
Changeling Theatre: All's Well that Ends Well - Thursday 11 August, 7.30pm
Medieval Merriment - Saturday 13 & Sunday 14 August, 10am-5pm
Luna Cinema: The Goonies - Thursday 22 September, 7.30pm
Luna Cinema: Romeo & Juliet - Friday 23 September, 7.30pm
Luna Cinema: Monty Python's Life of Brian - Saturday 24 September, 7.30pm
GUIDEBOOK: ROCHESTER CASTLE
Price: £3.50
OPENING TIMES
1 APRIL - 30 SEPTEMBER 2017
Monday 10:00 - 18:00
Tuesday 10:00 - 18:00
Wednesday 10:00 - 18:00
Thursday 10:00 - 18:00
Friday 10:00 - 18:00
Saturday 10:00 - 18:00
Sunday 10:00 - 18:00
NOTES
Last admission 45 mins before closing Due to the concert series that takes place in the grounds in July it may be necessary to close early.
HOLIDAY OPENING TIMES FOR THIS PERIOD
Good Friday
14 Apr 2017 10:00 - 18:00
Easter Sunday
16 Apr 2017 10:00 - 18:00
Easter Monday
17 Apr 2017 10:00 - 18:00
Early May Bank Holiday
1 May 2017 10:00 - 18:00
Spring Bank Holiday
29 May 2017 10:00 - 18:00
Summer Bank Holiday
28 Aug 2017 10:00 - 18:00
1 OCTOBER 2017 - 29 MARCH 2018
30 MARCH 2018 ONWARDS
Opening times will be available nearer the time