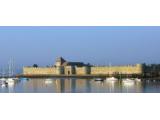 | | |
| --- | --- |
| Looking for: | Heritage, Historical |
| Address: | Church Road, Portchester, Hampshire, PO16 9QW |
| Postcode: | PO16 9QW |
| Age Group: | All Ages |
| Kids Activity: | Outdoors |
| Telephone: | 0370 333 1181 |
| Mobile: | 02392 378291 |
| Website: | Click Here |
---
Looking for a fun family day out? Visit Portchester Castle in Hampshire, South East England. It provides the perfect setting for a relaxed, fun, historic day out. The castle's commanding location has made it a major factor in the Solent's defences for hundreds of years.
The most impressive and best-preserved of the Roman 'Saxon Shore' forts, Portchester Castle was originally built in the late 3rd century. An exhibition in the keep interprets the history of the castle and Portchester village, and displays finds excavated on site. The inclusive audio tour explains life in the castle over the centuries.
We sometimes have to close the spiral staircase and roof due to high winds. Please call us to find out before you visit.
PLEASE NOTE: We are starting to prepare for an exciting new exhibition at Portchester Castle which opens in Summer 2017. In the meantime the objects currently on display will be relocated to our collections store from the 21st November 2016.
Don't Miss
ABOUT GIFTAID
Prices are valid from 25th March 2016. If you are visiting before this date you may find prices are lower than those advertised. The Gift Aid admission price includes a voluntary donation of 10%. Provided you have paid enough UK Income or Capital Gains Tax * (to cover all of your Gift Aid donations in this tax year), English Heritage is able to reclaim tax on the whole amount you have paid - that's 25p on every £1. This extra money enables us to undertake vital conservation and education projects and ensure that many of England's most important historic sites can continue to be enjoyed by future generations.
* Other taxes such as Council Tax and VAT do not apply.
OPENING TIMES
1 APRIL - 30 SEPTEMBER 2017
HOLIDAY OPENING TIMES FOR THIS PERIOD
Good Friday
14 Apr 2017
10:00 - 18:00
Easter Sunday
16 Apr 2017
10:00 - 18:00
Easter Monday
17 Apr 2017
10:00 - 18:00
Early May Bank Holiday
Spring Bank Holiday
29 May 2017
10:00 - 18:00
Summer Bank Holiday
28 Aug 2017
10:00 - 18:00
1 OCTOBER - 31 OCTOBER 2017
1 NOVEMBER 2017 - 11 FEBRUARY 2018
12 FEBRUARY - 16 FEBRUARY 2018
17 FEBRUARY - 29 MARCH 2018
30 MARCH 2018 ONWARDS
Opening times will be available nearer the time