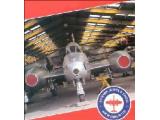 Looking for:
Heritage, Museums / Galleries
Address:
Newark Air Museum
The Airfield
Winthorpe
Newark
Nottinghamshire
Postcode:
NG24 2NY
Age Group:
All Ages
Kids Activity:
Indoors and Outdoors
Telephone:
01636 707 170
Website:
Click Here
---
We are located on part of the former World War Two airfield of Winthorpe in eastern Nottinghamshire close to the border with Lincolnshire. Very little remains of the original wartime buildings and what remains of the original runways are no longer fit for use.
This website has been designed to give a taste of what the museum has to offer. Whilst it does not fully cover all of our exhibits and displays we nevertheless hope it will encourage you to pay a real visit to one of the UK's largest volunteer managed aviation museums. Our diverse collection of aircraft and cockpit sections covers the history of aviation.

The aircraft on display include 13 National Benchmark aircraft; 34 Significant aircraft and 21 Noteworthy aircraft as listed in the National Aviation Heritage Register. Nearly two thirds of the exhibits are now displayed inside.


The first airframe was secured in 1963 thereafter the museum was formally incorporated as a Limited Company no.930888
and registered as charity no.256434 in April and September 1968 respectively.
After a number of years spent preparing its permanent site on the Winthorpe Showground a former World War II training base, the museum was officially opened to the public on Saturday 14th April 1973.
We're open 361 days a year. The museum is open everyday except Christmas Eve, Christmas Day, Boxing Day and New Years Day.
March to October 10am - 5pm, November to February 10am-4pm. Evening visits and other times can be arranged by prior agreement.
Admission Charges. You can make a Gift Aid Donation as an alternative to normal admissions for accessing the museum. With this new option the Gift Aided Donation includes a 70p or 60p voucher to spend in the Museum Café.
Gift Aided Donation [G.A.D]
Adult G.A.D - £8.80
Over 60s G.A.D. - £7.70
Family G.A.D. - £24.20
Child G.A.D - £4.95
None Gift Aided Price [N.G.A.P]
Adult N.G.A.P - £8.00
Over 60s N.G.A.P. - £7.00
Child N.G.A.P - £4.50
Family N.G.A.P. - £22.00