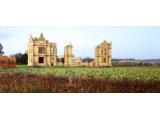 | | |
| --- | --- |
| Looking for: | Heritage, Historical |
| Address: | Moreton Corbet, Shawbury, Shrewsbury, Shropshire, SY4 4DW |
| Postcode: | SY4 4DW |
| Age Group: | All Ages |
| Kids Activity: | Outdoors |
| Telephone: | 0370 333 1181 |
| Website: | Click Here |
---
The impressive ruins of Moreton Corbet Castle are the product of over 500 years of building. The earliest surviving remains are those of a stone castle begun in about 1200, including a fine gatehouse. The Corbet family remodelled the castle in the 16th century, and the Elizabethan south wing is a rare survival from this period of a bold Italian-inspired design, which was devastated during the Civil War. Fine Corbet monuments fill the adjacent church.
BEFORE YOU GO
Parking: There is limited free car parking available in the layby next to the castle.
Access: Wheelchair access is possible to most of the site, but there are some short flights of stairs within the ruins. Please do not climb on the walls, they are fragile and this causes irreperable damage.
Facilities: Shops and a pub can be found in nearby Shawbury. There are no toilet facilities at the castle.
Dogs: Dogs on leads are welcome.
PLAN A GREAT DAY OUT
Moreton Corbet is a great place for a family picnic. Children are welcome to explore the nooks and crannies of the castle ruins.
The extensive remains of Haughmond Abbey are nearby, and Wroxeter Roman City is just over 10 miles away. It was once the fourth largest city in Roman Britain, and today it offers a fascinating glimpse into urban life 2,000 years ago.
OPENING TIMES
30 APRIL 2017 - 24 MARCH 2018
Open any reasonable time during daylight hours
25 MARCH 2018 ONWARDS
Opening times will be available nearer the time