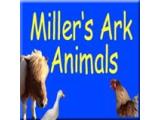 Looking for:
Animals & Farms
Address:
Roke Farm, Roke
Odiham
HANTS
Postcode:
RG29 1HZ
Telephone:
(01256) 701847
Website:
Click Here
---
The Mobile Farm concept embraces the desire to bring children and adults into close contact with farm animals, thus inspiring interest and respect, whilst providing an exciting experience in the security of their own environment.
We bring everything we need except water, and clean up thoroughly on our departure.
The Mobile Farm can include sheep and lambs, goats and kids, piglets, miniature donkeys and ponies, rare breed poultry, ducks and geese, hen and chicks, giant rabbits, guinea pigs and a farm dog. The emphasis is on touching and feeding the animals to build confidence and awareness. The welfare of the animals is paramount throughout and only those happy with a lot of attention are used.
Miller's Ark Animals was established in 1991 by Elizabeth Miller B.A. Cantab, as an offshoot of her main farming business and has expanded steadily ever since.
Miller's Ark Animals brings the sights, sounds and experiences of the farmyard to the heart of your show, corporate event, school, nursery or residential home.
THEY ALSO HAVE OPEN DAYS WHERE YOU CAN VISIT THE FARM.