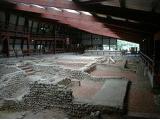 Looking for:
Heritage, Historical
Address:
Lullingstone Roman Villa
Lullingstone Lane
Eynsford
Kent
Postcode:
DA4 0JA
Telephone:
01322 863 467
Website:
Click Here
Attraction Information:
---
Lullingstone is amongst the most outstanding Roman villa survivals in Britain and provides a unique all weather family day out in the attractive Darent Valley in Kent.
The villa was created around AD 100 and adapted to suit the tastes and beliefs of its successive wealthy owners eventually reaching its peak of luxury in the middle of the 4th century and thusly it remains. Kids will love trying on the Roman costumes and playing traditional board games from the period, plus they can wonder at the display of artefacts including 2 human skeletons! Eek!
Visitors to the villa today can still study the spectacular mosaics and rare prints that make up the wall paintings, plus explore a vintage heated bath suite and a domestic church. Their special light show brings the villa to life, lighting up areas of the remains as their film reveals how the areas were once used, while extensive galleries display Lullingstone's fascinating collections of Roman artefacts. Another bonus for kids is that many of the artefacts are now accompanied by artwork from award-winning children's illustrator Jane Ray.
Admission:
Adult £7.30
Kids £4.40
Under 4s Free
Family of 5 for £19
Parking fee of £2.50
Opening Times:
October 10am to 5pm daily
November to March weekends only 10am to 4pm
Longer hours once into the warmer months, to be announced.