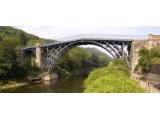 | | |
| --- | --- |
| Venue Info: | Parking |
| Looking for: | Heritage, Historical |
| Address: | Ironbridge, Telford, Shropshire, TF8 7JP |
| Postcode: | TF8 7JP |
| Age Group: | All Ages |
| Kids Activity: | Outdoors |
| Telephone: | 0370 333 1181 |
| Website: | Click Here |
---
The world's first iron bridge was erected over the River Severn here in Shropshire in 1779. This pioneering single-span cast-iron structure was a turning point in British design and engineering; after it was built, cast iron came to be widely used in bridges, aqueducts and buildings.
Now Britain's best-known industrial monument, the bridge gave its name to the spectacular wooded gorge that was once an industrial powerhouse and the cradle of the Industrial Revolution. Ironbridge Gorge is now a World Heritage Site.
This year, a major conservation project will begin to repair Iron Bridge and secure its future. Read more about the project.
BEFORE YOU GO
Parking: There is a charged car park nearby, not managed by English Heritage.
PLAN A GREAT DAY OUT
Ironbridge is a great starting point for a visit to Ironbridge Gorge. The Iron Bridge is the perfect place to begin a tour of the gorge's many museums, and other English Heritage sites nearby, including Buildwas Abbey, Wenlock Priory and Wroxeter Roman City.
Just ten miles away from Iron Bridge there is also Boscobel House and the Royal Oak. The future King Charles II sought shelter here from Cromwell's men after being defeated at Worcester in 1651. The site provides an opportunity to get close to a significant moment in English history, as well as boasting a charming tearoom which makes it a great spot for lunch or tea.
OPENING TIMES
30 APRIL 2017 - 24 MARCH 2018
Open any reasonable time during daylight hours
25 MARCH 2018 ONWARDS
Opening times will be available nearer the time