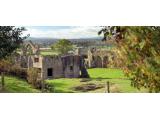 | | |
| --- | --- |
| Venue Info: | Parking |
| Looking for: | Heritage, Historical, Parks & Gardens |
| Address: | Upton Magna, Uffington, Shropshire, SY4 4RW |
| Postcode: | SY4 4RW |
| Age Group: | All Ages |
| Kids Activity: | Outdoors |
| Telephone: | 0370 333 1181 |
| Mobile: | 01743 709661 |
| Website: | Click Here |
---
The extensive remains of an Augustinian abbey, including its abbots' quarters, refectory and cloister. The substantially surviving chapter house has a frontage richly bedecked with 12th and 14th century carving and statuary, and a fine timber roof of around 1500.
Pictorial interpretation boards guide the visitor, and an introductory exhibition displays archaeological finds. Picnic area and light refreshments available.
Don't Miss
The opportunity to take some fantastic photographs of these extensive remains
The interpretation panels, guiding you around the site
GUIDEBOOK: HAUGHMOND ABBEY AND LILLESHALL ABBEY
Price: £2.99
FURTHER PRICING DETAILS:
Prices are valid from 1st April, if you are visiting before this date you may find prices are less than those advertised.
ABOUT GIFTAID
About Gift Aid The Gift Aid admission price includes a voluntary donation of 10%. Provided you have paid enough UK Income or Capital Gains Tax * (to cover all of your Gift Aid donations in this tax year), English Heritage is able to reclaim tax on the whole amount you have paid - that's 25p on every £1. This extra money enables us to undertake vital conservation and education projects and ensure that many of England's most important historic sites can continue to be enjoyed by future generations. * Other taxes such as Council Tax and VAT do not apply. Prices are valid from 25th March 2016 - 31st March 2017.
OPENING TIMES
1 APRIL - 30 SEPTEMBER 2017
NOTES
Last admission half an hour before closing
HOLIDAY OPENING TIMES FOR THIS PERIOD
Good Friday
14 Apr 2017
10:00 - 17:00
Easter Sunday
16 Apr 2017
10:00 - 17:00
Easter Monday
17 Apr 2017
10:00 - 17:00
Early May Bank Holiday
Spring Bank Holiday
29 May 2017
10:00 - 17:00
Summer Bank Holiday
28 Aug 2017
10:00 - 17:00
1 OCTOBER 2017 - 29 MARCH 2018
30 MARCH 2018 ONWARDS
Opening times will be available nearer the time