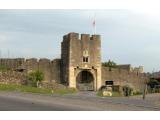 Looking for:
Heritage, Historical, Parks & Gardens
Address:
Farleigh Hungerford Castle
Norton St Philip
Bath
Somerset
Postcode:
BA2 7RS
Telephone:
01225 754026
Website:
Click Here
Attraction Information:
---
Farleigh Hungerford Castle is a partially ruined fortified mansion and gardens that was occupied for 300 years by the Hungerford family and today their intriguing, yet sometimes gruesome stories are told through graphic interpretation panels and a free audio tour.
It's worth noting in advance and mentioning to the kids that the old spiral stairs to the towers are not longer possible to use, so don't let them think they're going to get to climb up there or they'll be disappointed!
There are many hidden treasures that curious kids will enjoy discovering: the chapel with rare medieval wall paintings and family tombs; extensive displays in the Priests house; and for those who are brave enough to enter the crypt, find the best collection of human-shaped lead coffins in Britain! Creepy but cool! Bear in mind that these have the actual death masks engraved upon them as cast from the corpses, so you might either want to scoosh sensitive smalls past that bit or pretend that they're sculptures instead!
Admission:
Free for English Heritage Members
Adult £4.80
Child (5 to 15 years) £2.90
Concession £4.30
Families from £12.50
Opening Times:
March through September 10am to 6pm daily, October 10am to 4pm daily, November through February weekends only 10am to 4pm.