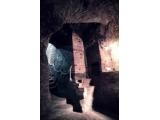 Looking for:
Childrens Activities, Heritage, Historical
Address:
52 Bridlesmithgate
Nottingham
Nottinghamshire
Postcode:
NG1 2GP
Age Group:
All Ages
Kids Activity:
Indoors
Telephone:
0115 915 5330
Website:
Click Here
Attraction Information:
---
Bridlesmith Gate has a long history with references to Bridilsmethisgate dating to 1304 . In earlier days it was known by the name Lorimers Street or by the latin translation vicus lorimorium. A lorimer was somebody who made the metal portions of a horse's bridle.
There are several known cave systems below properties on Bridlesmith Gate. When numbers 48-52 Bridlesmith Gate were renovated in 1975, NHAS were given permission to excavate the caves below them. The excavations lasted for around two years and revealed three cave systems containing many finds.
Access to the caves is via a passage between numbers 52 and 54 Bridlesmith Gate. The passage is known as Clayton's Passage and once led through to a large open space to the rear of the buildings known as Clayton's Square or Clayton's Yard. A door off to the right leads down into the cellar below number 52 Bridlesmith Gate from where further passages lead into the caves themselves.