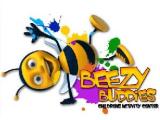 Looking for:
Childrens Clubs, Indoor Play Areas
Address:
Hartley Business Centre
272-284 Monkmoor Road
Shrewsbury
Postcode:
SY2 5ST
Kids Activity:
Indoors
Telephone:
01743792915
Website:
Click Here
---
Shropshire is buzzzzzing about us and you are about to find out why. You will BEE very impressed. Treat your kids to Shropshire's most exciting and most popular soft play facility and children's activity centre. Whether it's just a quick visit, a coffee and a snack while watching children have a blast, or a fantastic sweeter than honey birthday party, you can be sure of a warm welcome and the highest standards every time. We offer great children's clubs, courses and workshops too. Visit us today we are open 7days a week!!! We look forward to seeing yo.
We are not just a regular soft play area. Our centre offers a wide range of activities which are educational, sporty, entertaining as well as playing a fantastic role in childrens personal development and social skills training. We have qualified coaches for all activities, who are also crb checked.
Martial Arts
Beezy Buddies has its very own Dojo, Yes, No kidding. Bring all the little ninjas to our okanawwa room...
Jujitsu, Karate, kick boxing, taekondwo, mma, boxing, kombatrobics, name a martial art and we'll probably have it too. Fantastic coaches, all crb checked and highly experienced, Our clubs are part of the British Combat Association (BCA).
Dance and perfoming arts
We have a fantastic dance club here coaching ballroom, latin, hip hop street dance, and cheerleading. Its incredible and kids love it.
Summer holiday camp
join us this summer for an action packed holiday. A wide variety of activities offered for one week, Only £18 per child., book now to avoid disappointments as places are limited.
Antibullying course
Yes we can bully proof your child, We run courses monthly. Register your child for just £30 for this 4 weeks essencial course. Our coaches are highly expeienced. For more details please contact us.