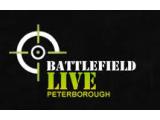 Looking for:
Active, Childrens Activities, Sports & Leisure
Address:
Battlefield Live, French Drove
Thorney
Peterborough
Cambridgeshire
Postcode:
PE6 0PE
Age Group:
10+
Kids Activity:
Outdoors
Telephone:
01733 270440
Website:
Click Here
Attraction Information:
---
Battlefield Live is exciting, challenging, and full of adrenalin-pumping action.
We offer thrilling, interactive combat themed games suitable for everyone from age 7 to 70+. No specialist knowledge is required and whether a first time player or regular visitor we guarantee you a great time. We specialise in family birthdays, school or youth organisations, stag / hen and corporate groups but you don't have to come as part of a large party, individuals, families and small groups are just as welcome. Teamwork is the key and you will need wits, skill, strategy and stealth to overcome the opposition.
Using the very best, high quality state of the art gaming equipment, including top of the range S*A*T*R (small arms transmitter receiver) weapons we can ensure you have a realistic but fun and exciting day out. The high tech infa-red operating system is perfectly eye safe meaning you don't have to wear any special equipment, carry around extra ammunition or worry about getting hit, bruised or battered.
With our highly accurate equipment there is reliable scoring, no cheating and realistic action. Also with our electronic medic box refreshing your lives it means no one sits out watching others complete the games. Guns come in different weights and sizes with self-reloading so you can concentrate on having fun without worrying about weapon control.
Located in the heart of the fens close to Peterborough we are one of only a handful of purpose built sites in the UK for full-on outdoor gaming action.
WE ARE OPEN ALL YEAR ROUND AND OPERATE IN ALL WEATHER - EVEN SNOW!