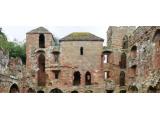 | | |
| --- | --- |
| Looking for: | Heritage, Historical, Parks & Gardens |
| Address: | Acton Burnell, Shrewsbury, Shropshire, SY5 7PE |
| Postcode: | SY5 7PE |
| Age Group: | All Ages |
| Telephone: | 0370 333 1181 |
| Website: | Click Here |
---
Tucked away in a quiet part of Shropshire is the graceful red sandstone shell of Acton Burnell Castle. It was built between 1284 and 1293 by Bishop Burnell, Edward I's
Lord Chancellor, and Parliaments were held here twice, in 1283 and 1285. By 1420, the castle was abandoned, and it was allowed to decay while a new house, Acto
n Burnell Hall, was built beside it. Nonetheless, the castle remains an
impressive example of a medieval fortified manor house.
Remrea d BEFORE YOU GO
Openin
g Times: Open during any reasonable daylight hours. Please note the adjacent college
closes the gates to the access road at dusk each day.
Access: From the car park the castle can be
reached through a gate leading to a short wooded walk, which then opens out on a flat grassed site.
Parking: There is free parking for five cars and one minibus at the entrance to the site.
PLAN A GREAT DAY OUT
If you want to make a day of it, nearby Langley Chapel is a short scenic drive from Acton Burnell Castle, and Wroxeter Roman City
is also nearby. It was once the fourth largest city in Roman Britain, and today it offers a fascinating glimpse into urban life 2,000 years ago.
The unforgettably picturesque Stokesay Castle is about 17 miles away. It is the finest and best-preserved medieval fortified mano
r house in England. An audio tour helps you to imagine Stokesay as a centre of medieval life, and the tearoom
serves a delicious range of light savoury snacks, homemade cakes and cream teasOPENING TIMES
29 APRIL 2017 - 24 MARCH 2018
Open any reasonable time during daylight hours
25 MARCH 2018 ONWARDS.