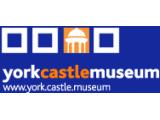 Looking for:
Heritage, Museums / Galleries
Address:
York Castle Museum
Eye of York
York
North Yorkshire
Postcode:
YO1 9RY
Kids Activity:
Indoors
Telephone:
01904 687687
Website:
Click Here
Attraction Information:
---
York Castle Museum is one of Britain's leading museums of everyday life. It shows how people used to live by displaying thousands of household objects and by recreating rooms, shops, streets - and even prison cells.
It is best known for its recreated Victorian street, Kirkgate, which combines real shop fittings and stock with modern sound and light effects, to evoke an atmosphere of Victorian Britain.
The street was named after the museum's founder, Dr John L. Kirk, a North Yorkshire country doctor who collected everyday objects and wanted to keep them safe for future generations.
The museum's room settings include a Victorian parlour, an 1850s Moorland cottage, Jacobean and Georgian dining rooms, a 1940s kitchen and a 1950s front room.
Our grooviest gallery, The Sixties, explores the music, fashion and everyday life of this exciting decade.
Elsewhere are displays of historic toys, fashion, armour, weapons, tools, printing presses, cooking utensils, farming equipment and much more.
The museum's past as two prison buildings is explored in York Castle Prison, where visitors come face to face with ex-prisoners including highwayman Dick Turpin, who was hanged in 1739 for horse stealing.
Conditions in the overcrowded prison were harsh and brutal and the real stories of the prisoners and staff are told in sometimes gruesome detail.
Turpin spent his last six months in the Debtors' Prison, which was built in 1701-5, and today houses half of the museum's displays. The other half of the museum was originally the Female Prison, built in 1780-83.
The museum, which opened in 1938, was named after the former York Castle, which stood on the site.
Remains of the former Castle walls can be seen outside the museum next to the River Foss and our Victorian watermill, Raindale Mill.