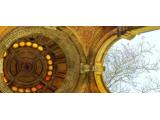 | | |
| --- | --- |
| Venue Info: | Parking |
| Looking for: | Heritage, Historical, Parks & Gardens |
| Address: | Worcester Road, Great Witley, Worcestershire, WR6 6JT |
| Postcode: | WR6 6JT |
| Age Group: | All Ages |
| Kids Activity: | Outdoors |
| Telephone: | 0370 333 1181 |
| Mobile: | 01299 896636 |
| Website: | Click Here |
Attraction Information:
---
Explore the dramatic ruins of Witley Court and travel back to a world of lavish house parties. Learn the stories behind the people who once lived and partied here, from servants to royal visitors. Discover elaborate parterre gardens and monumental fountains then find your way through enchanting woodland to the unique adventure play area. Witley Court has something for everyone to enjoy.
The seven month conservation project to return the Perseus and Andromeda fountain to its former glory is now complete. See the newly-restored fountain erupt every day from April to the end of October.
GUIDEBOOK: WITLEY COURT AND GARDENS
Price: £3.99
FURTHER PRICING DETAILS:
Prices are valid from 1st April, if you are visiting before this date you may find prices are less than those advertised.
ABOUT GIFTAID
The Gift Aid admission price includes a voluntary donation of 10%. Provided you have paid enough UK Income or Capital Gains Tax * (to cover all of your Gift Aid donations in this tax year), English Heritage is able to reclaim tax on the whole amount you have paid - that's 25p on every £1. This extra money enables us to undertake vital conservation and education projects and ensure that many of England's most important historic sites can continue to be enjoyed by future generations.
* Other taxes such as Council Tax and VAT do not apply.
OPENING TIMES
1 APRIL - 30 SEPTEMBER 2017
NOTES
Last admission one hour before site closes.
HOLIDAY OPENING TIMES FOR THIS PERIOD
Good Friday
14 Apr 2017
10:00 - 18:00
Easter Sunday
16 Apr 2017
10:00 - 18:00
Easter Monday
17 Apr 2017
10:00 - 18:00
Early May Bank Holiday
Spring Bank Holiday
29 May 2017
10:00 - 18:00
Summer Bank Holiday
28 Aug 2017
10:00 - 18:00
1 OCTOBER - 31 OCTOBER 2017
1 NOVEMBER - 23 DECEMBER 2017
24 DECEMBER - 26 DECEMBER 2017
27 DECEMBER - 31 DECEMBER 2017
1 JANUARY - 18 FEBRUARY 2018
19 FEBRUARY - 25 FEBRUARY 2018
26 FEBRUARY - 29 MARCH 2018
30 MARCH 2018 ONWARDS
Opening times will be available nearer the time