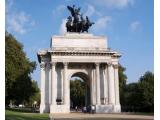 | | |
| --- | --- |
| Looking for: | Heritage, Historical |
| Address: | Apsley Way, Hyde Park Corner, London, W1J 7JZ |
| Postcode: | W1J 7JZ |
| Age Group: | All Ages |
| Kids Activity: | Outdoors |
Attraction Information:
---
Set in the heart of royal London, Wellington Arch was built as an original entrance to Buckingham Palace, later becoming a victory arch proclaiming Wellington's defeat of Napoleon.
Crowned by the largest bronze sculpture in Europe, it depicts the Angel of Peace descending on the 'Quadriga' - or four-horsed chariot - of War.
Visit this spectacular landmark and feast on the glorious panoramas over London from its balconies. Discover the Royal Parks, and watch the Household Cavalry on their way to the Changing of the Guard.
Opening Times
1 April - 30 September 2017
Monday 10:00 - 18:00
Tuesday 10:00 - 18:00
Wednesday 10:00 - 18:00
Thursday 10:00 - 18:00
Friday 10:00 - 18:00
Saturday 10:00 - 18:00
Sunday 10:00 - 18:00
Notes
Last admission 30 mins before closing
Holiday opening times for this period
Good Friday
14 Apr 2017 10:00 - 18:00
Easter Sunday
16 Apr 2017 10:00 - 18:00
Easter Monday
17 Apr 2017 10:00 - 18:00
Early May Bank Holiday
1 May 2017 10:00 - 18:00
Spring Bank Holiday
29 May 2017 10:00 - 18:00
Summer Bank Holiday
28 Aug 2017 10:00 - 18:00
1 October - 29 October 2017
30 October 2017 - 29 March 2018
30 March 2018 onwards
Opening times will be available nearer the time