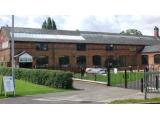 Looking for:
Museums / Galleries
Address:
Wellingborough Museum
12 Castle Way
Wellingborough
Northamptonshire
Postcode:
NN8 1XB
Telephone:
01933 276838
Website:
Click Here
Attraction Information:
---
The charity is called the Winifred Wharton Trust. It holds the lease on
the building called Dulley's Baths (because it was built as a swimming
pool in 1892).
Admission:
Free to visit.
Opening Times:
Monday to Saturday 10am to 4.30pm
Closed Sundays.
Open Bank Holiday Mondays.