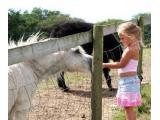 Looking for:
Animals & Farms
Address:
Warren Mill Farm
Pendoylan
Cowbridge
Postcode:
CF71 7UJ
Age Group:
All Ages
Kids Activity:
Indoors and Outdoors
Telephone:
01446 781274
Website:
Click Here
Attraction Information:
---
Come and visit our farm park where you will see a large selection of friendly farm animals including, Rabbits, Guinea Pigs, Rare breeds of Sheep, Goats, Pigs, Minature Ponies, Alpacas and our latest addition Australian laughing Kookaburra! Plus many more!

The Farm Park is set in 10 acres of picturesque countryside. We have a large selection of animals ranging from:
Tiny Guinea Pigs, Miniature Cattle, Rabbits
Rare Breeds Of Sheep, Ponies, Llamas, Alpacas, Wallabies, Red Squirrels, and lots more.
Opening hours:
Open every day from 10.30am
Until:
6.30pm Summer (April - September)
4.00pm Winter (October - March)
Prices
Adults £4.00
Children £3.00
Animal feed 50p per bag
There is also a snack bar for refreshments tea, coffee, rolls etc.