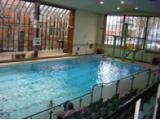 Looking for:
Active, Sports & Leisure, WaterFun
Address:
Walsall Gala Baths
Tower Street
Walsall
West Midlands
Postcode:
WS1 1DH
Age Group:
All Ages
Kids Activity:
Indoors
Telephone:
01922 653150
Website:
Click Here
---
Walsall Gala Baths has the only brine pool in the region - its warm, salty waters are wonderfully relaxing and therapeutic.
There is also the competition style pool - 33.33m x 13.72m, with 7, 5 metre and 3 metre diving boards, 1 metre spring board, tanning studios and Mint Condition Fitness Centre.
The specially sized and designed Fitzone Gym sessions are aimed at children between the ages of 8 - 16 years old.