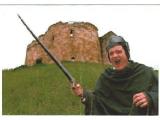 Looking for:
Active, Heritage, Museums / Galleries, Outdoor / Active
Address:
Viking Walk
All Saints Church
Parliament Street
York
North Yorkshire
Postcode:
YO1 6JD
Kids Activity:
Outdoors
Telephone:
0750 8015610
Website:
Click Here
Attraction Information:
---
The York Viking Walk is a fascinating tour of Viking York. Time travel back to the 9th century and see where the Vikings fought to take the city in a bloody battle in 867. Find out how the Vikings' cunning and ferocity overcame the resistance of the Saxon kings who desperately defended the city! You will also see where the Vikings lived and worked in the city, which became an important commercial centre and had a population higher than any other English city.