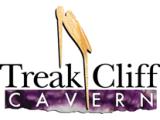 Looking for:
Childrens Activities, Outdoor / Active
Address:
Castleton
Buxton Road
Castleton
Hope Valley
Derbyshire
Postcode:
S33 8WP
Age Group:
All Ages
Kids Activity:
Indoors
Telephone:
(0)1433 620571
Website:
Click Here
Attraction Information:
---
Treak Cliff Cavern is an underground wonderland of stalactites, stalagmites, rocks, minerals and fossils. It is also Home to Blue John Stone, a rare form of Fluorite with beautiful colours.
Popular as an ornamental stone and mined for 300 years, one of the largest pieces ever found is still in situ called 'The Pillar'. The Blue John Stone in Treak Cliff Cavern can be seen all around the walls and roof of the Witch's cave.
The guided tour takes you deeper underground to see multi coloured flowstone adorning the walls of Aladdin's Cave, and further on you can experience the wonder of the stalactites and stalagmites in Fairyland and the Dream Cave. The most famous formation is 'The Stork', standing on one leg.
Treak Cliff Cavern in Castleton is famous throughout the world for its unique and large deposits of Blue John stone, and houses some of the most beautiful cave formations found in the UK.
Visitors can enjoy a guided tour though our mine and caverns, visit our well stocked gift shop as well as taking in the stunning views of the surrounding hills and valley.
The cavern is open from 10a.m every day (except 24th, 25th, 26th December) and tours run until 4.20pm. (3.20pm between November 1st and February 28th). Dogs are welcome in the cavern and shop on a lead.
Pricing:
Adults £9.50
Children (5 to 15 Yrs) £5.20
Under 5's are free
Discounted Prices are as Follows:
Student And YHA members (with card) £8.50
Senior Citizen £8.50
Must be in reciept of state pension
Family (2 Adults & 2 Children) £26.00
Extra children £4.70
Dogs are welcome on a lead
photography allowed
All tours are guided and last approx 40mins
minimum 2 persons per tour