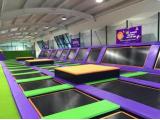 Looking for:
Active, Childrens Activities, Indoor Play Areas
Address:
Redcote Lane
Leeds
Postcode:
LS4 2AL
Age Group:
All Ages
Kids Activity:
Indoors
Telephone:
01132635951
Website:
Click Here
Attraction Information:
---
Learning with joy is the mantra to keep your wards excited, engaged and enlightened. Bring them to a park that has trampolines to let them understand the true meaning of fun.
Your child is sure to feel bouncy and special when taken to toddler classes Leeds. From free jumping to dodgeball to foam pits – find an atmosphere that is truly stimulating for development of your ward's creative and imaginative faculties.
Let them spring off the wall, face harmless rivals and make attempts for a win.
A range of activities are available to keep kids hooked and joyous for hours, literally.
Opening Times
MONDAY ................................................................................................09.00 - 22.00
TUESDAY ...............................................................................................09.00 - 22.00
WEDNESDAY .......................................................................................09.00 - 22.00
THURSDAY ............................................................................................09.00 - 22.00
FRIDAY ..................................................................................................09.00 - 22.00
SATURDAY ............................................................................................09.00 - 23.00
SUNDAY ..................................................................................................09.00 - 21.00