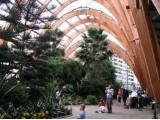 Looking for:
Outdoor / Active, Outdoor Play Areas
Address:
The Winter Garden
90 Surrey Street
Tudor Square
Sheffield
South Yorkshire
Postcode:
S1 2LH
Telephone:
0114 2736895
Website:
Click Here
Attraction Information:
---
The Winter Garden is a great place to stop for a peaceful time out in the heart of Sheffield and it's right beside the Millennium Gallery too so perfect for a dual visit! A pleasing chance to get back to nature in a very modern setting and for kids to stretch their legs.
This striking glasshouse is actually large enough to hold 5,000 of the common garden greenhouse and features a superb display of more than 2,500 plants from all around the world! It's a really nice place to explore with kids, with plenty of flowering and fragrant plants to keep things interesting in amongst the glorious greenery.
Admission:
Free to visit!
Opening Times:
Monday to Saturday 8am to 8pm
Sunday 8am to 6pm
Closed Christmas Day