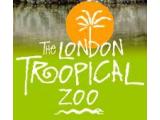 Looking for:
Animals & Farms, Heritage, Zoos & Wildlife
Address:
Syon Park
Brentford
Greater London
Postcode:
TW8 8JF
Age Group:
All Ages
Kids Activity:
Indoors and Outdoors
Telephone:
020 8847 4730
Website:
Click Here
Attraction Information:
---
The Tropical Zoo, based in London is a zoo that offers an indoor children's zoo experience. They have a great range of animals including crocodiles, tarantulas, piranahs and snakes.
Monkeys: Bolivian Squirrel Monkey, Common Marmoset Monkey.
Birds:
Bengalese Eagle Owl, Congo African Grey Parrot, Green Wing Macaw, Military Macaw and more.
You can hold or touch animals as diverse as:
Insects, tarantulas, snakes, lizards, iguanas, and even a baby crocodile.
There are interactive animal shows on weekends and holidays at the following times:
* 11am
* 2pm
* 4pm