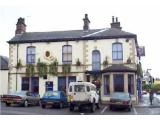 Looking for:
Family Pubs
Address:
653 London Road / Chesterfield Road
Sheffield, South Yorkshire
Postcode:
S2 4HT
Age Group:
All Ages
Kids Activity:
Outdoors
Telephone:
0114 2586984
Attraction Information:
---
The Red Lion is a former Qs sports pub. Our philosophy has not changed, still offering an excellent place to watch sport and play pool whilst at the same time being an attractive venue for women.
This is a very modern and strikingly decorated pub guaranteed to satisfy those looking for the best sporting facilities.
The sports area has a vibrant atmosphere with many pool tables, screens showing live football and a satellite juke box for day to day music.
The locals area is much quieter and an ideal place to relax in comfort with a pint and meal. We offer very high standards with an excellent range of beers and bottled products served to you by our friendly staff. Food is available every day from a main menu and a snack menu is served, to eat in or takeaway, in the late evening.
The pub is one of the most up to date places in the area and definitely the best! Our trouble free environment makes us popular with women. We can ensure all will have a warm welcome and an enjoyable time.