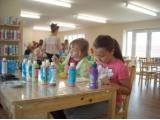 Looking for:
Creative / Learning
Address:
The Pottery Loft
High Grange Ave
Billingham
Stockton-On-Tees
Durham
Postcode:
TS23 3XR
Telephone:
01642 566675
Website:
Click Here
Attraction Information:
---
To review The pottery loft all I can do is speak from my heart and say, on every occasion I have been and painted, stuffed animals, glued decoupage or had coffee & cake (which is also of a high standard and so morish!!!) every time has been a joy.. My children love going…. My nephews who live in Leeds ask to go when they come up and have raved to their friends too!!!
The staff are fabulous, Gemma is so helpful and Liz the owner is a delight.
Its a fabulous place for fun and relaxation. And what you leave with is more than your hand made product its a wonderful memory to cherish too. xxx
Admission:
We do not charge an entry fee.
Our small soft play is only £2 but is free if children participate in any arts and craft activities.
Pottery Painting ranges from £5 to £35
Decopatch £5 to £35
Teddy Bear Making from £15
Baby Prints on pottery from £12
Baby Prints in clay or plaster start from £30
NHS Discount Available
10% discount for groups of 10 or more
Opening Times:
Term Time
Monday 10am to 3pm
Tuesday 10am to 3pm
Wednesday CLOSED
Thursday 10am to 8pm (5 to 8pm adults only)
Friday 10am to 3pm
Saturday 10am to 4pm
Sunday CLOSED
Holidays
Monday 10am to 4pm
Tuesday 10am to 4pm
Wednesday CLOSED
Thursday 10am to 8pm (5 to 8pm adults only)
Friday 10am to 4pm
Saturday 10am to 4pm
Sunday CLOSED
(We are closed on Bank Holidays)