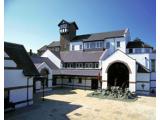 Looking for:
Heritage, Museums / Galleries
Address:
The House of Manannan
Peel Quayside
Peel
Isle of Man
Postcode:
IM5 1TA
Kids Activity:
Indoors
Telephone:
01624 648000
Website:
Click Here
---
At the House of Manannan, the Island's mythological sea god, Manannan, welcomes you to his fascinating Kingdom and guides you through the Island's rich Celtic, Viking and Maritime past.
Things to do and see
Step inside a Celtic roundhouse.
Listen to our storyteller who tells a troubled tale.
Watch Manannan speak from the gently falling waters of Spooyt Vane.
Stroll though a Viking longhouse from Cronk-ny-Merriu.
Gaze at mist rising through stone crosses and listen to stories which span over a thousand years.
Join the crew of Odin's Raven Viking longship as they return from the battle of Clontarf.
Explore 19th Century Peel quayside and discover the sights and smells of a Manx Kipper Yard.
Walk through the quayside warehouse and discover sailmakers, coopers and chandlers shops.
Visit 'Spit Corner', eavesdrop on conversations and listen to the superstitions of the fisherfolk.
Buy memorabilia of your visit in the shop.