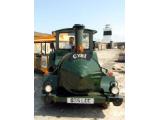 Looking for:
Transport
Address:
The Holyhead Breakwater Railway Company
36 Vulcan Street
Holyhead
Anglesey
Postcode:
LL65 1TL
Kids Activity:
Outdoors
Telephone:
01407 762579
Website:
Click Here
Attraction Information:
---
Our Land Train service started running with a succesful season in the summer of 2005, and in 2008 expanded to include an additional train. Our Land Train Info page has more on schedules, timetables and booking information.
We are proposing to sensitively establish a non-environmentally intrusive scenic 15" narrow gauge railway system around the base of the old quarries, with a single line back along the top of the old railway cutting to the engine sheds. This will provide scenic views of all the old quarries and rocky coast.
The standard gauge proposal is to re-install a section of track from the Breakwater Lighthouse back to original Engine Shed area - where it could link with the narrow gauge system. The old Engine Shed area becoming a leisure area and focal point with a possible museum for capturing the flavour of the past at the Breakwater and associated quarries. The proposal will seek to acquire old BR locos and rolling stock relevant to the area to enable classroom or even restuarant style short trips. We are currently trying to recover one such loco from the Azores which has strong local connections with the 7ft broad gauge railway in use here in the 1800's.