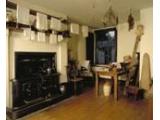 Looking for:
Heritage
Address:
Andreas Road
Ramsey
Isle of Man
Postcode:
IM8 3UA
Telephone:
01624 ?648000
---
The Grove Museum of Victorian Life tells the story of the Gibb family and their Victorian summer retreat, which later became their permanent residence and family home. Beautifully preserved to provide an intriguing insight into life in the Victorian and Edwardian eras, a visit to the house, outbuildings and country garden is like stepping back in time.
• Listen to the story of the 'Gibbs of the Grove'.
• Explore the sumptuous rooms throughout the house.
• See stunning Victorian furniture, fashion and fineries.
• Learn about the life of a scullery maid.
• Ring the servant bells and listen to their many tones.
• Watch the bees making honey.
• Discover early farm equipment including a horse drawn threshing mill.
• Explore the small wood and gardens.
• Play croquet on the lawn.
• Feed the ducks and count the flock of Manx loghtan sheep.
• Enjoy a picnic in the gardens or sumptuous Manx specialities in the Conservatory Restaurant.
• Buy memorabilia of your visit in the Grove Museum shop.