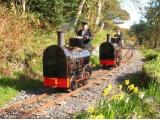 Looking for:
Childrens Activities, Parks & Gardens, Transport
Address:
The Great Laxey Mine Railway
Valley Gardens
Laxey
Isle of Man

Telephone:
Postcode:
IM4 7NH
Kids Activity:
Outdoors
Telephone:
07524 861706
Website:
Click Here
Attraction Information:
---
Located in the village of Laxey, on the eastern coast of the Isle of Man, the restored railway runs along the surface section of the tramway which once carried lead and zinc ores from deep inside the Great Laxey Mine.
The railways terminus is located at the Valley Gardens which was once the site of the Great Laxey Mine?s Washing Floors. Passengers travel in a tiny carriage, hauled by a replica of one of the original steam engines, through the Island?s only railway tunnel and along the line which once carried wagons loaded with the metal ores.?
At the Mines Yard terminus of the railway, a series of information boards explain the surviving mining features.? The Laxey Wheel, the Lady Isabella, is just a short walk away from the terminus. Built in 1854 to pump floodwater from the mine, it is the largest working waterwheel in the world and is the Island?s most visited tourist attraction. In 2006, the former Snaefell Mine waterwheel was restored to working order on the Valley Gardens.? No other railway can boast of a waterwheel at each end!
The Great Laxey Mine Railway
Passengers can now ride in a tiny carriage along the line where loaded wagons of ore were once hauled from the mine.
The railway, a quarter of a mile in length, runs up the valley from the former Washing Floors, now the Valley Gardens, to the main adit entrance where there is a picnic site, footpath and information boards explaining the mining features. The Laxey Wheel is only a short five minute walk away. The line runs beneath the main Laxey to Ramsey road and the Manx Electric Railway through the longest railway tunnel on the Island!
Admission:
Return Fare: adults £2; children (5 to 15) £1; and children under five go free!
Opening Times:
The Great Laxey Mine Railway operates every Saturday and Bank Holiday from Easter Saturday until the end of September and every Sunday during August.
A number of special event days are also operated, including Laxey Fayre and Ghost trains at Halloween.
Trains run every few minutes from 11am to 4.30pm. Ghost trains run from 1pm to 7pm.