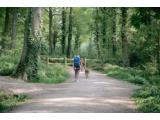 Looking for:
Outdoor / Active, Outdoor Play Areas
Address:
The Forest of Bere
Fareham
Hampshire
Postcode:
PO17 6JD
Telephone:
01420 520212
Website:
Click Here
---
The new natural forest playground is now open in West Walk and is suitable for children and young people of all ages, it has a huge oak tree house, wooden playhouses, wigwams, sand pit, climbing wall, bridge and shingle stream.
Together with the remaining 19th century oak and modern 20th century conifer plantations, there are areas of retained scrub and coppice, streams, ponds and an extensive network of rides and paths. The many habitats provide an excellent area for nature lovers, whatever the season.
There are walking and cycling opportunities within the forest, ideal for all abilities.
Access either from the A32 Meon Valley Road, north of Wickham or at Hundred Acres; the postcode is to get you close, please do plan your journey independently.
Admission:
No entry fee.
Parking charges are up to 2 hours £1.50, 2 to 4 hours £2.50 and over 4 hours £4.
Opening Times:
Daylight opening throughout the year. Car parks open 8am to dusk.