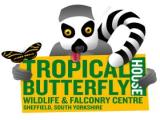 Looking for:
Animals & Farms, Outdoor Play Areas, WaterFun
Address:
Tropical Butterfly House,
Wildlife & Falconry Centre
Hungerhill Farm
Woodsetts Road
North Anston
Sheffield
Postcode:
S25 4EQ
Age Group:
All Ages
Kids Activity:
Indoors and Outdoors
Telephone:
(01909) 569416
Website:
Click Here
Attraction Information:
---
When the centre first opened in the summer of 1994, it consisted of the Tropical house, some gardens and the start of the nature trail. Over the past 11 years the centre has evolved to included a wide range of animals.
The centre currently is home to the Tropical House, Bird of prey centre, baby animal nursery, Pets corner and a mature nature trail. In turn these areas house many exotic species of plants and animals from Philippine butterflies, African falcon, South american Marmoset monkeys and Australian Bearded Dragons.
Not forgetting the many different native specie that the nature trail provided a sanctuary for.
Venture deep into the Tropical Rainforest; watch out for the caiman basking by his pool. Try and spot all the different types of free flying exotic butterflies and birds as they search for food. Look out for the leaf cutter ants as they carry their heavy loads back to their nest.
Explore the darkness of the nocturnal room home to sticky footed geckos, luminous tree frogs, giant creepy crawly insects, scuttling cockroaches and slithering snakes.
Too hot in the tropical house? The cool off with a gentle stroll around the nature trail home to many rare species of plants, insects and animals. Watch the busy honeybees in their hive or look out for Kestrels, woodpeckers, stoats and squirrels from the bird hide. Peer into the ponds for stickleback fish, newts and toads.
Or pop into the Bird of Prey centre and get close up to these spectacular predators, why not stop and talk with the parrots they may talk too
Conquer the Realm of Camelot adventure playground with slides and towers... Or enjoy ride-on tractors, a zip-wire, Air Cannons and more. Don't forget to check out the new Wet Sand Play Area!
Splash & Play Zone:
Grab a bucket and spade and get building a sandcastle and splash about in our Wet Play Area!
Or let your under 4's have fun with the toys and wendy house in the play area, with plenty of seating for family.
Adult: £13.20
Child £12.20
Under 2's: Free
Students/Seniors: £12.20
Explorer Family Pass (2 adults, 2 children): £43.20
Ranger Family Pass (2 adults, 3 children): £51.20
Opening Times: March 1st to October 31st
Monday to Friday: 10am to 4.30pm
Weekends and school holidays: 10am to 5.30pm
November 1st to February 29th
Monday to Friday: 11am to 4pm
Weekends and school holidays: 10am to 5pm