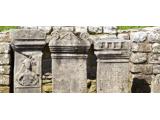 | | |
| --- | --- |
| Looking for: | Heritage, Historical |
| Address: | Humshaugh, Hexham, Northumberland, NE46 4DB |
| Postcode: | NE46 4DB |
| Telephone: | 0370 333 1181 |
| Website: | Click Here |
Attraction Information:
---
This fascinating temple to the god Mithras stands near Carrawburgh Roman Fort on Hadrian's Wall. Mithras was an eastern god who, according to legend, had captured and killed the primeval bull in a cave, which Mithraic temples, always small and gloomy, were intended to evoke.
The temple was probably built by soldiers based at the fort in about AD 200. The three altars found here (copies stand in the temple) were all dedicated by commanding officers of the unit stationed here, the First Cohort of Batavians from the Rhineland.
BEFORE YOU GO
Access: The site is reached through a field, parts of which are uneven and can become muddy. Not suitable for wheelchairs or buggies. Please be aware that the site is also prone to flooding in wet weather.
Parking: There is a Northumberland National Parks car park at the site. Charges apply, however once purchased you can use your ticket at all of their car parks along Hadrian's Wall at no extra cost for the day.
Please note, the postcodes provided are for the next nearest possible location.
PLAN A GREAT DAY OUT
The Temple of Mithras at Carrawburgh is part of the Chesters Roman Trail.
A must see along the trail is Chesters Roman Fort which includes Chesters Museum and houses a collection of Roman finds discovered by antiquarian John Clayton (1792-1890). Many finds came from Carrawburgh, including over 13,000 coins and other items of value left as gifts to the water goddess Coventina. Some of these are now displayed in the museum at Chesters.
Chesters Roman Fort also has a tearoom, selling delicious hot and cold refreshments. There are also toilet facilities, a picnic area and gift shop.
OPENING TIMES
29 APRIL 2017 - 24 MARCH 2018
Open any reasonable time during daylight hours
25 MARCH 2018 ONWARDS
Opening times will be available nearer the time