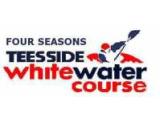 Looking for:
Active, Outdoor / Active, Sports & Leisure
Address:
Teesside White Water Centre
Tees Barrage
Stockton on Tees
Durham
Postcode:
TS18 2QW
Kids Activity:
Outdoors
Telephone:
01642 678000
Website:
Click Here
Attraction Information:
---
Welcome to the Tees Barrage International White Water Centre (TBIWWC). If you love watersports or adrenaline type activities then TBIWWC is just for you. We offer various types of exhilarating activities such as white water rafting, white water kayakaing and powerboating. For those who prefer more tranquil activities we offer sailing, canoeing and bellboating. The course underwent a £4.6 million re-development, which has transformed the course into a world class facility.
The 300 metre long course has been re-configured with new eddies, a slalom gate system and is twice the depth of the previous course - which is ideal for pulling those moves. All of the old features remain, but it will be bigger and better than ever before. A great deal of thought has gone into the bottom section to reveal some interesting playspots. The brand new 95 metre short course (one of the steepest in the UK) has a drop of 3.7 metres from top to bottom which makes this a great addition to the venue.
A major investment in the project is the inclusion of four massive Archimedes' screws which enable 24 hour water flow when required. The screws will also be used to generate electricity. Another exciting addition is the Lazyboy conveyor system - which is useful to keep users rotating around the course without the need to even exit your boat (provided you can stay in!).