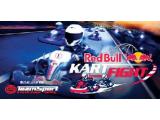 Looking for:
Active, Childrens Activities
Address:
14-15 Curran Road
Cardiff
South Wales
Postcode:
CF10 5NE
Telephone:
0844 998 0000
Website:
Click Here
Attraction Information:
---
About Team Sport
Team-Sport Indoor Karting was formed in 1990 originally under the banner of Go-Karting For Fun. The first track was in Guildford and set new standards for go karting events and unparalleled centre facilities.
Success at Guildford was quickly followed with a second centre opening at Crawley and a third in Southampton which opened in 1996. When a larger building became available in Aldershot, the decision was taken to move the original Guildford track in order to offer karters an even better race experience. 1999 saw the opening of the Gosport track, then Andover followed in 2000.
By the millennium, at 10 years old, Go Karting For Fun was firmly established as the U.K's largest indoor karting company, with 5 tracks in the South East. This success was achieved by a dedication to providing the best race experience, in the best karts, on the best tracks, within the best centers and all delivered by the best staff in the U.K.
A New Era
After a few difficult years in the early 'naughties' a massive refurbishment program began in 2004 with many of the original track's facilities significantly upgraded. Then in 2006 the next chapter in our history really began. We relocated our Aldershot centre to a new building in Camberley, Surrey and just a few months later opened our 6th track in Cardiff. The professionally designed track & amazing facilities at the Cardiff track are amongst the best in the UK and the massive investment has ensured TeamSport Karting Cardiff is the premier go kart track in Wales & the South West.
December 2008 saw our long search for a track in the capital come to an end when we opened in North London. In 2009 the relocation of the Crawley track was undertaken, but this time on a scale different to anything seen in the UK before. Over £1m was invested in building the new 3 level track, which created a racing experience unmatched in the UK, with hospitality facilities to match.
The final chapter to the TeamSport story (so far!) came at the end of 2010 with our first ever acquisition of a track in Bristol, followed by the opening of TeamSport's new flagship venue at Tower Bridge in Central London. This time a £1m + investment in an amazing multi-level track was not enough, we went electric (!) with a light-weight electric powered fleet of karts, utilizing lithium battery technology – a truly amazing experience.
We are proud of our history as the U.Ks largest indoor karting company, with 9 great locations across the UK. However, we continue to look to the future, so don't be surprised to see another TeamSport venue opening in the near future!