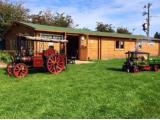 Looking for:
Transport
Address:
Summerfields Miniature Railways
Hammer Hill
Haynes
Bedford
Bedfordshire
Postcode:
MK45 3BH
Telephone:
01234 743062
Website:
Click Here
Attraction Information:
---
In the first instance, all society related messages will be forwarded to the BMES Secretary, Alan Beard.
If your message needs to be dealt with by another member Alan will redirect it as appropriate. If your enquiry relates specifically to the web site you may use the dropdown menu, below, to direct your email to the webmaster.
Admission:
A return ticket costs £2 per person but children under the age of two travel free.
Opening Times:
Most spring and summer bank holidays, plus assorted Sundays and a few school holiday Wednesdays. It is essential to check our website for open days before turning up.
11am to 4pm on open days.