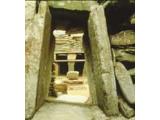 Looking for:
Heritage, Museums / Galleries
Address:
Near Stromness
Orkney
Postcode:
KW16 3LR
Kids Activity:
Outdoors
Telephone:
01856 841815
Website:
Click Here
---
When a wild storm on Orkney in 1850 exposed the ruins of ancient dwellings, Skara Brae, the best preserved prehistoric village in northern Europe, was discovered.
The excavated farming settlement dates back 5000 years. Within the stone walls of the dwellings – separated by passages – are stone beds, dressers, seats and boxes for provisions, recesses for personal possessions, and a hearth where dried heather, bracken or seaweed was burned.
A replica house has been created next to the site and many original artefacts found at Skara Brae (part of the Heart of Neolithic Orkney World Heritage Site) are displayed in the visitor centre, which has a café.
There is also a shop featuring many products created in Orkney. The setting of Skara Brae is magnificent with the sound of seabirds and the sea.